Date
22 March 2021 at 12:30 PM - 01:30 PM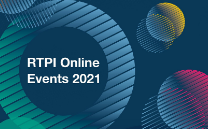 RTPI North East brings this webinar to you as part of the RTPI Online event series.
Ethics is an important element of being a professional planner. It forms a critical element of the Assessment of Professional Competence and is of vital importance throughout our working lives. This webinar will discuss the Institute's on-line training module on the subject and explore issues such as ethical workplace challenges, conflicts of interest, equality and diversity, professional competency, gifts and hospitality and use of social media.
This session will be chaired by Rose Gilroy, Professor of Ageing Planning and Policy at Newcastle University.
Speakers
The RTPI's approach to Ethics, Conduct and Discipline and Code of Profession Conduct
Craig McLaren, Director of Scotland, Ireland and English Regions
The role of the RTPI Conduct and Discipline Panel – maintaining high standards of professional conduct
John Craig, Head of Planning Hull County Council (Vice Chair - RTPI Conduct and Discipline Panel)
Suggested reading material
If you experience any problems when booking, please contact Kim Walker Regional Coordinator for assistance.