Date
28 October 2021 at 12:30 PM - 01:30 PM
Venue
RTPI Webinar / Online Event, Venue Not Applicable
RTPI North East brings this webinar to you as part of the RTPI Online events.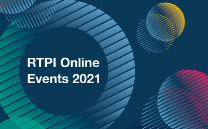 In this webinar we will hear from speakers covering a number of disciplines associated with decision taking and plan making. Topics likely to be cover include climate change, air quality, flood risk and drainage, noise assessment and green infrastructure.  A one stop shop on current issues and best practice this webinar is a must.
Brought to you in association with Hedley Planning
This event will be chaired by Hannah Chapman, Senior Planner at Hedley Planning and speakers confirmed so far include;
Adam Price, Senior Air Quality Consultant - NJD Environment Associations
Assessment of Construction Phase Dust Emissions in Planning

Mark Osborne, Director - OS Ecology 
Biodiversity Net Gain 3.0 - What do Planners need to know?
Tim Crawshaw, International Planning and Development Consultant -Crawshaw Urban Design (Vice President - Royal Town Planning Institute)
The Road to Net Zero, What Can Planning Do?
 
Book your place below - if you experience any problems when booking, please contact Kim Walker Regional Co-ordinator for assistance.