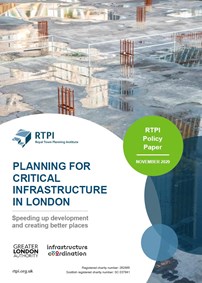 The government sees infrastructure investment as critical to the recovery from Covid-19, and to achieve their objectives for levelling up and net zero. This webinar will explore how effective planning can support the delivery of critical utilities infrastructure (energy, water and digital) within the built environment, to enable sustainable development and regeneration while responding to the climate emergency.
Join James Harris, Policy and Networks Manager, along with a great panel of speakers who are immersed in the day-to-day issues of infrastructure planning. Click here to view the speakers. 
Click here to read James' paper: Planning for Critical Infrastructure in London
Please be aware bookings close at 4pm on Wednesday 24 February. Tickets are limited and based on first come first serve basis.