Date
20 April 2021 at 05:15 PM - 06:15 PM
Join our regular discussions of the latest planning research coming out of RTPI's accredited Planning Schools. This webinar series will consider how academic research produced by scholars from across the region can inform and enhance current planning practice.
In this webinar Dr John Sturzaker, the recently-appointed Ebenezer Howard Professor of Planning at the University of Hertfordshire, will discuss the topic of Neighbourhood Planning and Opposition to Development.
We will be steered by research John had written for the Planning Practice and Research Journal in 2011 and presenting the question: What lessons have we learned in the last 10 years? We anticipate an interesting discussion and debate that will be relevantly applied to inform policy, proposals and planning decisions.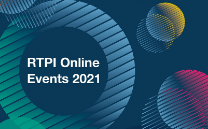 This webinar forms part of the RTPI Online series and is brought to you by RTPI East of England. The platform we use is GoTo webinar, so please check you can download this before booking.
Please book below and we will send you the joining link the day before the webinar.