Date
15 April 2021 at 12:30 PM - 01:30 PM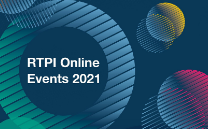 RTPI North East brings this webinar to you as part of the RTPI Online event series.
This webinar will draw from current regeneration projects in the North East, to help stakeholders develop a future for their town centres. It will look beyond retail to showcase how centres can adapt and find new ways of promoting their vitality and viability in the face of current economic challenges and the recent pandemic. This will include examples of transformational public realm projects, new leisure and cultural hubs, accessibility improvements and the development of digital high streets.
The session will be chaired by Jonathan Wallace and Dan Gregg, Lichfields.
Speakers
Angela Brockbank, Head of New Business & Growth - Thirteen Group
Town Centre Growth in a Polycentric Borough
Cathy Russell, Associate - Ryder Architecture -
Town Centre Regeneration: A placemaking perspective

Iain Robinson, Strategic Development Manager - Stockton Borough Council
Transforming Stockton High Street

Please book your place following on the button below. You will then be sent information on how to join the webinar 5 days prior to before the event.
If you experience any problems when booking, please contact Kim Walker Regional Coordinator for assistance.