Date
12 November 2020 at 04:00 PM - 05:00 PM
This event forms part of the RTPI Online Events 2020 series and is brought to you by Scottish Young Planners' Network.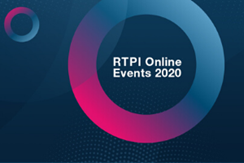 A review of placemaking initiatives in the built environment to take account of factors such as social distancing, increased use of sustainable modes of transport etc.
The event will focus on the efforts of the Scottish Government and Planning Authorities in ensuring that the built environment has been adapted to comply with public health guidance, with an emphasis on Urban Centres given higher population densities. Our primary aim is to review temporary and longer term interventions on our streets and in our places to sustain these aims.