Date
30 October 2020 at 12:30 PM - 01:30 PM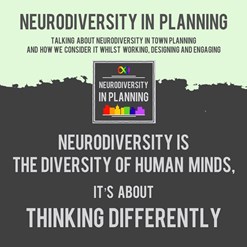 Neurodiversity is the diversity of human minds - it's about thinking, learning and communicating differently.  Neurodiversity in town planning asks us to think about things in a different way. 
Within this webinar we will ask:
What is neurodiversity?
Why is this an important subject and why are we talking about it now?
How can we support neurodiversity in the way we work, design and engage?
Speakers and guests:
Layla Vidal-Martin and Keeley Mitchell - co-founders of "Neurodiversity in Planning".
Sue Manns, RTPI President
Gala Korniyenko, PhD Candidate at the City and Regional Planning Program at The Ohio State University
Prof Nick Tyler, Director UCL Centre for Transport Studies and Chadwick Professor of Civil Engineering
After the webinar, attendees will be invited to join a working group to build on the ideas within the webinar.
Please do get in contact if you would like any or all of today's material sent to you in a different format.
This event forms part of RTPI Online series 2020, brought to you by RTPI London and RTPI North West.