Date
06 October 2020 at 11:00 AM - 12:00 PM
This webinar forms part of our RTPI Online series and is brought to you by RTPI West Midlands.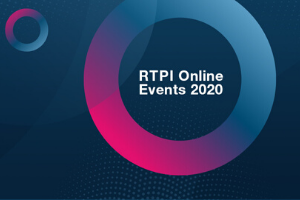 This seminar takes an interdisciplinary perspective on climate change impacts and how planning and management across the sectors need to change accordingly. The content is suitable for public and private sector professionals and especially planning professionals in strategic positions, policy development, development control and landscape scale planning. It highlights the dangers of simply carrying on with business as usual. This first of three seminars focuses on the scientific context and strategic climate change governance issues.
Agenda:
Chair: Maria Dunn, Birmingham City Council
Climate change facts and why this requires an ecological turn in planning to facilitate the sustainability transformation - Claudia Carter, Birmingham City University
Building with increased flood risk in mind: the Environment Agency's perspective - Jim Davies & Team, Environment Agency
Q&A session - all speakers
Learning Outcomes:
Enhance your understanding of climate change impacts across different sectors and built and natural environment interests
Recognise the need for integrated and environmentally aware policies and actions and how existing national policies and guidance facilitate (or hinder) this
Gain valuable insights on champions of climate change adaptation and mitigation policies and actions at the regional and local scale
Find part two of this series here and part three here.

The RTPI West Midlands 2020 CPD Programme is kindly sponsored by No5 Chambers
How can planners help create the world we need post-COVID-19?
We are calling on governments across the UK and Ireland to capitalise on the expertise of planners to achieve a sustainable, resilient and inclusive recovery from the COVID-19 pandemic.
Our Plan The World We Need campaign aims to raise awareness of the vital role planners have in every aspect of the recovery in order to revive the economy, tackle inequality and meet net-zero targets by 2050.
Please support our vision and share the campaign #PlanTheWorldWeNeed