Date
17 November 2020 at 04:00 PM - 05:00 PM
Cover photo: RTPI WM Award for Planning Excellence 2019 Winner - The Green Heart, University of Birmingham, by Churchman Thornhill Finch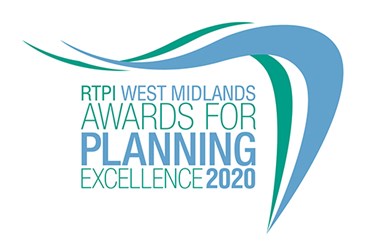 Join us to celebrate the best of planning and exemplar planners in the region with our Awards for Planning Excellence 2020 virtual ceremony. 
The Awards highlight exceptional examples of how planning and planners have a positive impact on our quality of life in creating exceptional places and protecting our environment. In recognising and rewarding excellence we aim to inspire others to achieve the same high standards.
So book your place now and join us on the 17 November to hear more about all of our shortlisted entries and who will be selected to win an award. 
Read more about each of these finalists
Headline sponsor:

The RTPI West Midlands Awards for Planning Excellence 2020 are kindly sponsored by No5 Chambers
Category sponsor:

The Planning for Excellence Award is kindly sponsored by WYG
Booking
Please book your place by following the online booking prompts below. You will then be sent details of the broadcast on YouTube.