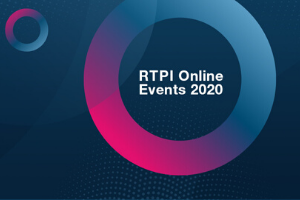 This event forms part of the RTPI Online Events 2020 series and is brought to you by RTPI London and Greater London Authority
5G: a double-edged sword?
Prof Samer Bagaeen of the Kent School of Architecture and Planning will be addressing this current hot topic.  This was touched upon by Nathan Pierce of Sharing Cities in his session on 27 May 2020.
Samer will be covering the following points:
Looking at claims about 5G and COVID-19 and the link to arson against UK masts in recent weeks.
The webinar will acknowledge the tensions around the provision of effective 5G services.
Looking at the ambition of higher connectivity and smarter streets vs. the absence of specific strategies for LAs for enabling the roll-out of 5G networks.
Will explore how reality is dominated by fragmented conversations across the multiple actors in this area: Government, the Networks, the Regulator, the Agents, Local Government, (economy, health, planning) and Communities.
Will look at campaigning by scientists and doctors and campaigners, as recent as April 2020, warning about the dangers of 5G.
Will explore what some have called, referring to 5G, as an enormous opportunity for local government bodies and the communities they represent. 
Will look into the real-life implications for 5G. The spectrum's reduced latency has significant implications for autonomous vehicles.
Will ask why senior management teams in Local Authorities had yet to formally discuss the impact of 5G on their Local Authority in a cross-cutting way.
This webinar will lay out some of the key discussion points and tensions in this area in order to encourage a healthy and open debate on the merits and drawbacks of 5G.
The format of the session will be a 15 minute presentation followed by a 15 minute Q&A.
Speakers:
Peter Kemp – Greater London Authority (Host)
Prof Samer Bagaeen – Kent School of Architecture and Planning
A recording of this session will be available on the #plantalk You Tube channel shortly afterwards.