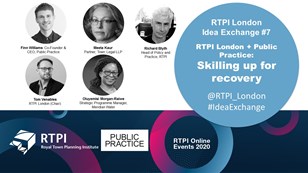 The Covid-19 crisis is accelerating trends around living, workplace, transport, public space and other major issues. Meanwhile there are a number of issues relating to place planning and economic recover that will require strong local government, and in particular properly skilled and resourced local planning departments.
RTPI London and Public Practice event exploring:
The vital role that the planning profession, and in particular public sector planning professionals, will need to play in post Covid-19 recovery
Opportunity to present research outcomes from RTPI and Public Practice: 
Discussion around the resources and skills that will be required in local, regional and national governance in the months and years ahead.
How will the planning profession need to adapt?
Speakers:
Finn Williams – Co-Founder & CEO, Public Practice
Meeta Kaur – Partner, Town Legal LLP and Trustee for RTPI Public Practice
Oluyemisi Morgan-Raiwe – Strategic Programme Manager, London Borough of Enfield
Richard Blyth - RTPI Research and Policy, RTPI
Chair: Tom Venables, Director, Prior Partners
Each webinar will be recorded and published on the RTPI YouTube channel.  You can see all the previous events here
This webinar has been brought to you as part of the RTPI Online Events 2020 programme