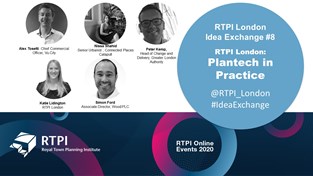 RTPI London Webinar programme: Plan Tech
The use of new and emerging technology is making the design and planning for new development easier than ever before.
Meanwhile, better use of digital tools to improve efficiency in the planning process is a primary element of the Government's White Paper Planning for the Future.
This webinar will explore how digital and data driven technology will change the way we plan in London, and highlight best practice where this is already being done.
Speakers:
Peter Kemp - Head of Change and Delivery, GLA
Nissa Shahid – Connected Cities Catapult
Alex Tosetti – Chief Commercial Officer, VuCity
Simon Ford - Associate Director, Wood PLC
Chair: Katie Liddington, Wood PLC
All webinars will be recorded and published on the RTPI youtube channel.
This event forms part of the RTPI Online Events 2020 series and is brought to you by RTPI London