Date
15 April 2020 at 06:00 PM - 08:00 PM
Venue
2-8 York Place, Perth, PH2 8EP
We are delighted to welcome our two speakers Marian Marsh from CoMoUK and Michael Morgan from Perth and Kinross Council.
Marian will talk to us about shared transport and the benefits it can bring to new housing developments, workplaces and regeneration projects. CoMoUK support collaborative, fair and sustainable mobility with the aim of creating better communities. Marian will introduce mobility hubs that can be adapted according to the nature of the development and is a new concept in Scotland. She will bring examples from mainland Europe and talk about their work on Mobility Hubs as part of the ShareNorth EU project.
Mike`s presentation will focus on placemaking, active travel and the ambitious plans for Perth that will set the benchmark for designing streets in the future. He will cover the development of the Perth Network Cycle Masterplan which seeks to identify a network of active travel corridors across the city, linking together current and future developments with other major trip generators. Mike will also tell us about the Perth, People, Place project which successfully obtained Sustrans funding in 2019. This focuses on delivering a new green corridor which will connect the north of Perth with the city centre, the train station and educational facilities along the way.
The evening will end with an informal Q & A and round table discussion, exploring the lessons that we can learn from the projects above. Planners, transport specialists, engineers and others with an interest in mobility, placemaking and health are all welcome!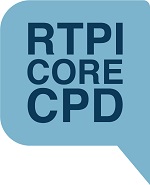 This seminar could count as appropriate CPD for RTPI members - remember to keep a record of your learning, including your learning outcomes, in your CPD record.
Infrastructure Planning and Economic Development
By attending this event you can:
Learn more about different approaches to Active Travel

Understand the benefits of implementing Active Travel

Appreciate the wider economic benefits of Active Travel
Design
By attending this event you can:
Discover how Active Travel can integrate good design

Learn about how you can use Active Travel initiatives to integrate placemaking

Hear about what criteria must be included to make successful and attractive active travel opportunities.