Data methodologies of contemporary urban planners: The role of questionnaire data within planning academia and practice
Dr Meadhbh Maguire
MRTPI PhD MSc MA
(McGill University, School of Urban Planning)
Full entry title
Maguire, M. (2021) Data methodologies of contemporary urban planners: The role of questionnaire data within planning academia and practice. Ph.D. Thesis. McGill University. Available to view here.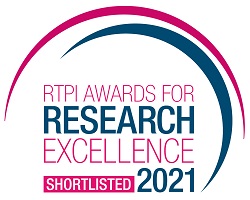 Research description
This thesis explores the role of survey data within planning, by examining how and why survey data are collected by academic and practicing planners, and exploring the weight that these data have within planners' decision-making processes. Using bibliometric analysis of a self-compiled database of planning research articles, content analysis of a smaller sub-sample of planning research, quantitative analysis of Canadian municipal planners' responses from a web-based survey, and qualitative analysis of interview data, I find that survey methods are heavily used within planning but are heavily influenced by the political contexts in which such data are sought.
Social Media: @meadhbh_maguire