Excellence in Tech within Planning Practice
The Excellence in Tech within Planning Practice category recognises any projects that have used a new type of technology or used technology in a new or innovative way. We are looking for projects where technology has been crucial to the outcome.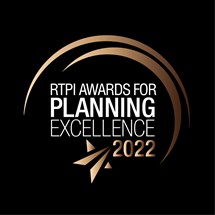 Eligibility
Projects completed in either 2020 or 2021 are eligible for entry, even if the planning component was completed years prior. Care should be taken to avoid entering schemes prematurely before they can be satisfactorily assessed. We recommend projects are completed or sufficiently completed in order to be assessed fully against all the judging criteria and other submissions. You may enter a project into more than one category, but we do ask that you provide an entry form for each category. Projects or work that has previously won an RTPI Award for Planning Excellence may not be re-entered in the same category, but those shortlisted or commended may be re-entered.
Judging criteria
Judges will be asked to assess schemes on the following criteria:
Outcomes for people and communities:
How has the scheme improved/made a positive impact on the local economy?
How has the scheme made improvements for specific groups e.g. people with physical disabilities, families, young people, Black, South and East Asian and ethnic minority communities?
How has the scheme made a positive impact on health and wellbeing e.g. solved problems/challenges with access to open space?
How has the scheme addressed issues of gender mainstreaming e.g. safety in public realm?
How has the scheme addressed any issues of inequality?
Outcomes for climate action:
How has the project, as completed, mitigated against climate change?
How did the project (in delivery) mitigate against climate change?
What targets did the scheme have for climate change and have those been met or exceeded?
Outcomes for sustainable development:
How does the project meet UN Sustainable Development Goals?
Planning contribution:
The centrality of a planning practitioner(s) to the project
How planning tools have been used to deliver positively
Community engagement:
How did the scheme engage with local communities?
How that engagement affected the final scheme delivery?
How inclusive was the community engagement?
Leading practice:
Value for money
Complexity of the brief/degree of difficulty and creative and innovative response to the brief
Timetable – was scheme delivered on time
Is an exemplar that is transferable across the UK and Ireland
If you have any questions, please view our FAQs.