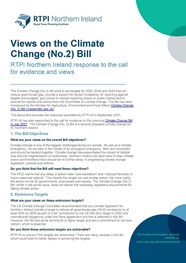 RTPI NI responded to the call for evidence on the Climate Change Bill in July 2021, which was a Private Members Bill. In July 2021, the Minister for Agriculture, Environment and Rural Affairs introduced a second Bill: Climate Change (No. 2) Bill (niassembly.gov.uk) 
The Climate Change (No.2) Bill aims to set targets for 2030, 2040 and 2050 that will reduce greenhouse gas, provide a system for carbon budgeting, for reporting against targets and budgets, give power to impose reporting duties on public bodies and to provide for reports and advice from the Committee on climate change.
RTPI NI's response to the second Bill can be read here.