Sue Bridge is RTPI President and a Chartered Town Planner with over 30 years' experience as a planning practitioner in local government and over 13 years in the development industry.
Your General Assembly was given an important message at our recent June meeting.
"AI is going to happen whether we like it or not. The question is how will it happen and who will be behind it." This stark message came from Euan Mills, (Digital Planning Advisor and Co-founder of Blocktype) during an insightful panel session as part of the Great Debate series.
The import and weight of this message was exactly why we organised a session to tackle the potential issues of digital technology and artificial intelligence within and outside of the planning profession. What does the incredible series of advances in this technology mean for us and by extension the communities we seek to help?
It is important for your institute to tackle these issues so that we can ensure we are all ready for whatever the future may hold.
We were lucky enough to have a stellar panel made up of people who genuinely understand this space and were keen to share their expertise with the General Assembly. The panel was made up of Nissa Shahid, (Digital Lead Town Planning, Arup), Louise Welham, (Digital Planning Transformation, Department for Levelling Up, Housing and Communities (DLUHC)) Euan Mills, and  Kirsty Holder, (RTPI digital planning programme manager for Scotland).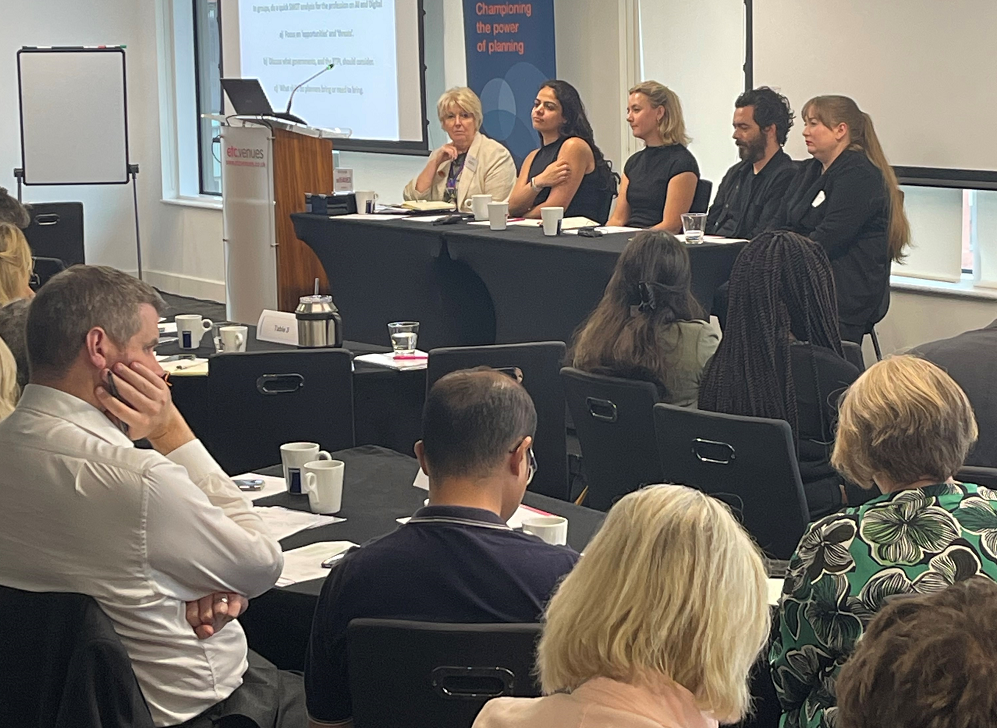 From left to right, Sue Bridge, Nissa Shahid, Louise Welham, Euan Mills, Kirsty Holder 

Nissa, gave us a valuable insight into how, despite the technology being around for some time, only now is she starting to see a wider understanding of what can be achieved. She encouraged us to recognise that while we can be secure that the 'dream of AI may be beyond the reality of AI' now is the time to start looking into how we do things slightly differently with the new tools available.
Examples of this included gaining insights on how people use their built environment through social media. However, there is a clear risk that we must be mindful of the biases that are baked into the data sets that we use.
Louise explained the purpose and scope of the DLUHC PropTech fund which is working on several pilots scoping out the potentials and possibilities of AI in planning. They have already identified efficiency savings in the large and costly processes of summarising, sorting and tagging representations.
Euan sounded a note of caution and calm explaining that AI has been around for some time, but due to the volume of data available online and the ever-advancing processing it has seen an enormous recent growth in capacity. He suggested that we were at the start of an exponential curve that will increase at a dizzying speed.
Kirsty completed an excellent panel discussion with an update on the four-year support programme that the RTPI is shaping and delivering for the Scottish Government. This includes assessing skills and knowledge on digital planning, creating a self-assessment module, identifying training needs and sharing good practice.  An introduction to our digital skills work in Scotland is here.
It is for this reason that I was keen to have this debate and make sure that RTPI was well placed to make the most of this new technology and de-risk it as much as possible. The advance of AI is inevitable, it is happening all around us. And while we have to absolutely recognise the risks and issues it could present, we also have to recognise the potential it has to support planners everywhere.
There is no doubt that as governments around the world grapple with this issue and technology continues to develop the picture will remain uncertain and potentially scary for all of us. However, please rest assured that your Institute is taking this matter very seriously.
This debate illustrates the importance of issues tackled by the General Assembly and what it means to take an active part in the institution. This topic will form the second part of the Great Debate report alongside our previous session on strategic planning earlier this year.
On that note the elections are currently open for nominations, and I would absolutely encourage you to put yourself forward for a position at a national level, or at a regional level when that process opens later in the year.