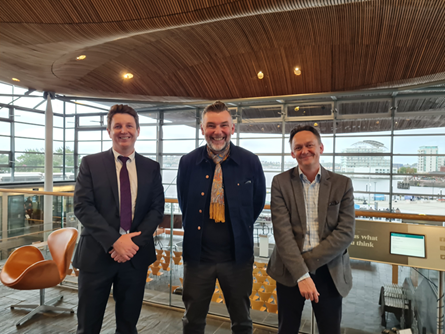 Wales has a different way of doing things, evident in the Future Wales National Plan 2040 and the Wellbeing of Future Generations (Wales) Act 2015. I was keen to find out more.
I have not been to Cardiff for around 20 years and was pleased to be visiting again. Arriving late at night from the station change, was evident on the skyline and I eagerly anticipated the next two days of exploration.
Day 1 (incidentally my birthday) started with joint institute event at the Pierhead Building exploring the opportunities and barriers to delivering active travel infrastructure. With an opening address from Huw Irranca-Davies MS and a Ministerial speech from Lee Waters MS the climate and future generations were key themes that permeated the debate around active travel, it was fantastic to see how a strategic overarching Act can influence policy, practice, and delivery.
Next up we had a great visit to Techniquest, a fantastic centre for STEM and directed by Lesley Kirkpatrick MRTPI. Having been involved in the regeneration of Cardiff Bay dating from the Development Corporation Lesley and team have secured significant investment in the building providing a fantastic extension and a bold programme of outreach to the local community that will expose a wider variety of young people to STEM subjects. Lesley has the vision and social mission to widen participation and recognises the role of institutions like Techniquest in the wider regeneration of the city and addressing inequalities, central planning considerations.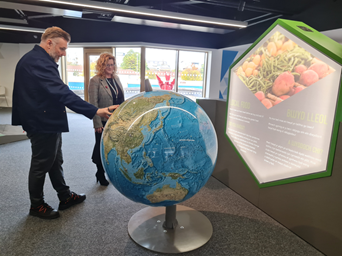 The afternoon was topped off with a meeting with Cardiff Chief Planner Simon Gilbert where we had a chance to discuss the role of ambitious planning, design codes and the challenges of service delivery. The Senedd was an awesome venue for the meeting, and we enjoyed some Welsh cakes, tea and coffee in the café. The Welsh Parliament is an open and welcoming building that has a beautiful use of timber alongside excellent sustainability credentials.
A highlight with much learning and resonance for me was the evening we spent with members of the Executive Committee at the Classroom, Cardiff and Bay College. This teaching restaurant on the top floor provided us with a fantastic venue for our reception and the food and service were impeccable. What was poignant for me was the role of further education colleges in providing skills, training and opportunities for all – my own path was influenced by a year spent with my local technical college where I studied art and design to access architecture school. The role of FE colleges is an essential part of the economy and skills network that the future economy will demand.
Day 2 – Starting with a visit to Cardiff University I was delighted to give a guest lecture to the first-year students of planning and property, giving an overview of the potential of planning to make the world a better place and as a fascinating and rewarding career. I met with staff and the Head of School, Gill Bristow, to hear about research and the ambitious programme of education at an undergraduate and postgraduate level.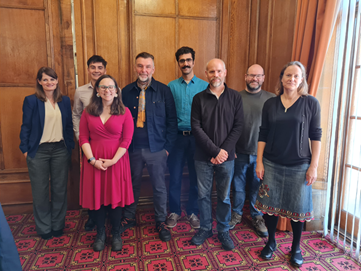 It was a pleasure to welcome a cohort of new Chartered Members at a Reception and lunch at Cornerstone in Cardiff City Centre. The guest speaker was Dr Tom Porter a public health practitioner who champions active travel in the wider context of wellbeing and planning and his comprehensive overview was inspiring and stimulating. There was little else to add, and I was pleased to see that Wales is benefitting from some great interdisciplinary work.
Welcome to all the new Chartered Members who have achieved so much over some difficult years. I wish you all the very best in your careers and hope that RTPI Membership stays with you all the way, planning is a friendly profession and I hope the mutual support of colleagues nourishes and supports you in the future.
With thanks to Rob Chichester Executive Committee Chair and the RTPI Cymru Team.