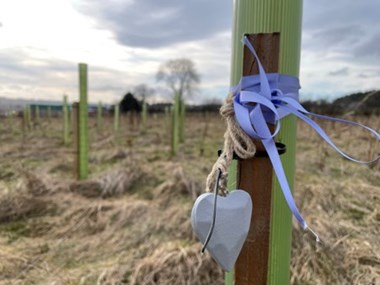 As we head towards International Day of Forests on the 21st March, I thought it would be good to talk about how health and wellbeing can be supported by trees in sufficient numbers.
The definition of a forest is a surprise to many, according to the United Nations Environment Programme, a forest is defined as "a land area of more than 0.5 ha, with a tree canopy cover of more than 10%, which is not primarily under agricultural or other specific non-forest land use."
If that's the case, London must officially be a forest! But, unlike London, many towns and cities do not fall into this definition, and, in deprived areas, there is almost always a deficiency in tree cover.
Forest bathing
Forest bathing, or "shinrin yoku", was developed in the 1980's in Japan specifically to support health and wellbeing. Through a series of practices and mindfulness, participants were found to experience reduced blood pressure and other health benefits from shinrin yoku.
The amount of forest required is undefined, and the benefits can be accessed in surprising locations if the conditions are right and sufficient preparation undertaken. But, and this is a big but, there must be something to work with.
Yes, the benefits of front gardens, houseplants, balconies, and window boxes are undoubtable, but having access to even a small stand of trees seems to me to be a basic ingredient of a good place, be it the 15-minute city, town or neighbourhood.
Creating your own woodland
In terms of practice, as we celebrate the beginning of spring we should, as Planners, get out there and find our local urban or peri-urban forest, and if there isn't one, instigate a new one. In 2020 a group of volunteers and I gained the funding, land and planning permission (yes it needed planning permission) for a community woodland. 950 trees in total were planted in 2021 and the satisfaction of knowing that they will outlive me is both inspiring and deeply humbling. The path was not straightforward, we nearly missed the funding and planting window waiting for our planning permission, but there they are, growing, striving for the future, and already providing habitats for insects and cover for mammals.
The very act of planting a woodland and nurturing trees as they grow is a healing act.
Key learning points for any planning application are that visual impact and access for all are essential considerations when planning a new woodland. What was surprising was the highways hurdle as we were, in the view of the Authority, creating a destination and therefore the woodland project would potentially have to deliver the last 50m of pavement beyond the recently approved edge of town housing scheme!
The very act of planting a woodland (technically a forest it seems) and nurturing trees as they grow is a healing act. Without a formal practice, half a day in the elements with like-minded individuals is something that fills the heart with joy.
Why not think about creating your own woodland? The funding is out there from the Woodland Trust, and there are opportunities to find motivated landowners who will gift the land. However, should you not be moved yet to plant your own woodland, be the adventurer and find a local stand of trees and share it with others. Given the last two years we all need to reconnect, and nature is a great bonding medium.
Instructions for forest bathing in the city (according to London National Park City):
Find a time of day when fewer people are around.
Switch off your electronic devices. Mobile phones especially can be a distraction so give yourself a digital detox for 1-2 hours.
Walk through the woodlands or forest at a leisurely pace and engage all your senses. Wandering slowly through the trees can be meditative, allowing you to be present and consciously aware of trees, as well as plantlife and wildlife.
Engage all your senses – sight, see, sound, touch and taste even. Touch a tree, look up at the sky – whatever resonates with you in that moment.
Pay attention to your breathing. This is a great way to relax and clear your mind, so you can focus on your surroundings.
Stay as long as you feel comfortable. 1-2 hours is recommended to get the benefits from Forest Bathing, but do not force it – do what you feel comfortable with.
Let us not also forget the need to retrofit our towns and cities to accommodate nature and the RTPI's own ReTreeFit Campaign, which recognises the urgent need to protect and replace urban trees.