Christopher Wilson is the Task Leader for the Promotion of Planning Task Group in the North West RTPI Regional Activities Committee which has recently completed a case study analysis of community engagement practice in the North West Region.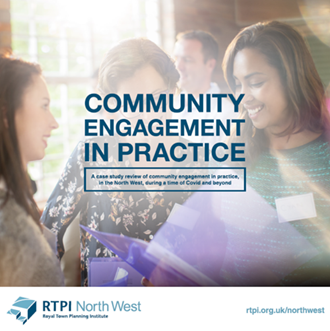 The Promotion of Planning Task Group looks to improve communications between the North West Region of the RTPI and the membership and support the ongoing learning and skills development of regional members. With this in mind, the Task Group looks to produce an annual publication considering best practice in a topic of relevance to planners and regeneration professionals. In summer 2021 the Task Group decided to explore the topic of community engagement in the planning process.
For developers, planning officer communities and decision makers, one of the biggest challenges in taking forward a plan, a programme or an individual development proposal is to ensure that public engagement is undertaken in a way which is meaningful, inclusive and brings benefits for all involved. Good engagement reduces conflict, improves development and allows communities to have an influence over the future shape of the where they live. The Covid-19 Pandemic greatly increased the challenges of good community engagement by taking away many opportunities for in person engagement in which planners could respond directly to personal concerns and encouraged more distant and proforma engagement practices.
The Task Group sought best practice articles from local planners on community engagement within projects and programmes of all scales across the North West and secured some high quality articles from organisations including Lancaster City Council, United Utilities and Homes England.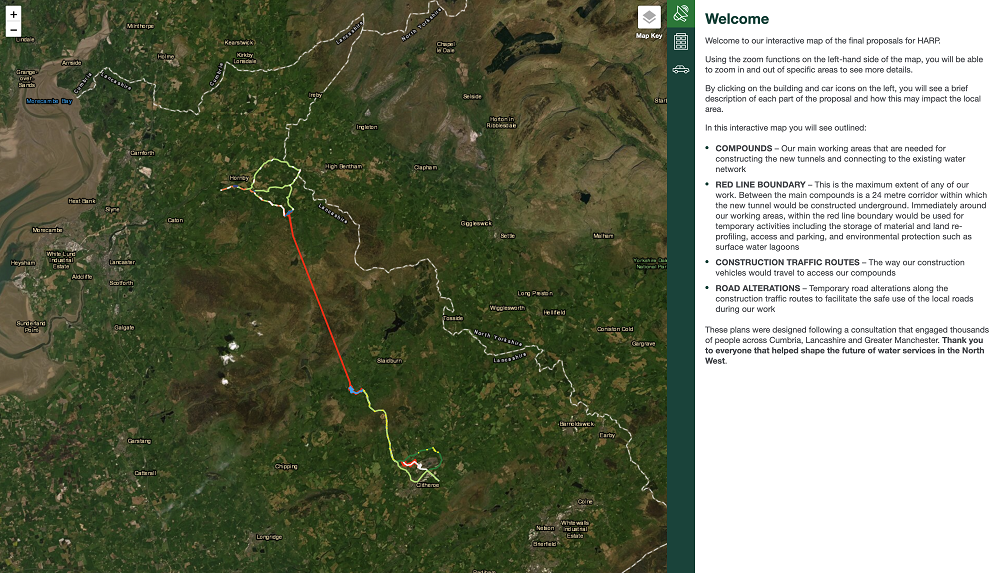 An interactive map from a virtual exhibition on the Haweswater Aqueduct Resilience Programme (HARP)
They discussed how they were able to innovate in the community engagement process since the onset of the Covid-19 process. Yes, big face-to-face meetings were out, and online engagement was in but that was no excuse not to have a thoughtful, dynamic and responsive engagement process. Alongside the inevitable Teams and Zoom meetings some of the more innovative approaches included:
The use of 'all in one' engagement platforms such as Engagement HQ to offer a range of fora for community responses
Use of GIS to create interactive 'Storyboards' for all devices
Virtual tours of proposed major developments
Dedicated websites
Creation of online videos
Maximum use of outdoor events and consultations to allow some in person interaction.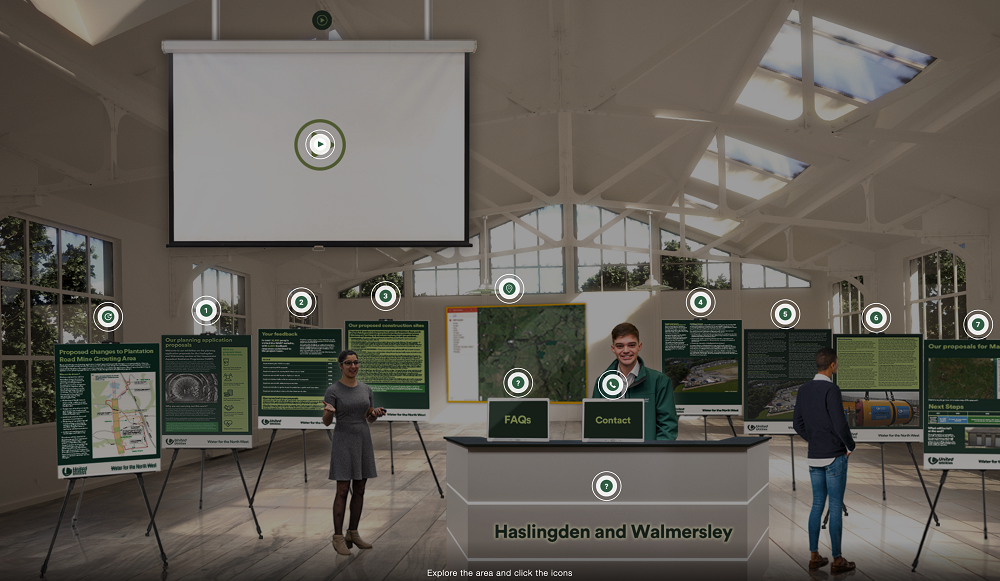 An interactive image with clickable elements from the HARP virtual exhibition 

The publication also considered the work of Planning Aid in helping marginalised communities build up their capacity to understand and engage with plan creation processes.  
Finally, the document considers the latest engagement toolkit from Homes England. This is based on the principles of:
Inclusive, Diverse, Clear and Transparent – i.e. involve as many people as possible
Early Collaboration and Co-Design, Empower to Inform –Actively collaborate with local partners
Actively Listening, Respectful and Build Trust – i.e. show that individuals matter in the engagement process
Set Within the Wider Context of Placemaking
Creative, Bold and Ambitious – i.e. leave an impactful legacy
It then sets out the tools which can be used to consult, involve, collaborate with, and empower communities.
The full document 'RTPI North West - Community Engagement in Practice' was launched in March 2022 and can be downloaded here.