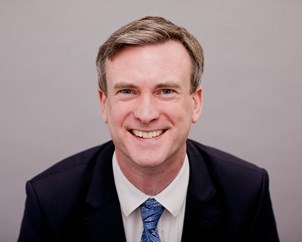 Andrew Close MRTPI is Director of Education and Profession. He is responsible for Institute-wide education policy and accreditation procedures, student advice and support including the RTPI Bursary project, lifelong learning and CPD monitoring and standards, and the RTPI Future Planners volunteer initiative to promote planning as a career choice to young people.
Taking my two nieces around the Science Museum during the school holidays was a timely reminder; (i) always remember to pack snacks, (ii) the need to book everything in advance, and (iii) that the impact of planning and planning skills can be found in all experiences. A six-year-old asking – do they have roads on the moon and how will they decide how to build houses if we live there, and then sitting on top of a bus as we headed back home and counting all the shops (or lack of) on a street, gave me ample opportunity to practice talking about spatial planning, location of development and land use mix without the jargon. She is a future planner in the making.
Of course Science or Technology are topics that link to the work of a planner, alongside other school subjects such as Geography. We just need to champion it!
At the beginning of the summer holidays, the Institute published its Children and Town Planning: Creating Places to Grow report. It struck a chord with me given the importance of outdoor spaces for all of us, particularly for school children over the past 18 months and more. The research gives practical advice to professionals working within the UK and Ireland planning systems and looks at how to involve young people in what their built and natural environment should look like.
Link it to your CPD
The school return therefore got me thinking that it offers potential for the Institute and its members – as individual 'ambassadors' of the profession to reconnect with education engagement programmes while taking into account government and employer guidelines and RTPI policies and protocols. Did you know that 'Championing Planning' is one of the ten Core CPD topics that the RTPI recommends to its members? 
The RTPI's 'Future Planners' initiative, pre-Covid, was a good way for volunteer 'ambassadors' to raise awareness of town planning. It has championed what a great career it is to primary and secondary pupils, building on an annual career talks programme to university students and promoting new work-based study routes such as degree apprenticeships.
After my recent London day out, I am directly aware that it is a way to practise communication, advocacy and negotiation skills.
Look out for World Town Planning Day or Agent Plan-It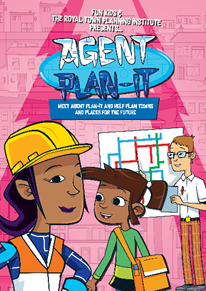 Planners have started to tap into the 'Minecraft generation' which is great to see, and there is more we can hopefully do. Our cartoon and comic 'Agent Plan-it' developed and broadcast with Fun Kids Online, the UK children's radio station, has been a starting point to help champion planning to a new audience who don't just accept what they see around them, without knowing the history of the environment or appreciating what goes behind the development of an area.
'Old skool' techniques can also work well to engage young people in the environment around them and the ever-pertinent issue of planning for sustainability. With COP26, climate action is centre stage, and this will be the focus for another RTPI schools competition. Last year, over 200 UK pupils took part and this year we are aiming even higher. The competition details will be available on social media in the lead up to World Town Planning Day on 8 November. You can champion planning by promoting to your own children's (or nieces', or friends') school teachers!
Get your thinking caps on
While organized programmes of in-person schools engagement remains on pause for the time being, have a look at the advice and reporting requirements on the RTPI Ambassadors web page including access to member-only information. 
Online brochures and flyers are available as well. 
So would you be interested in 'homework'? Remember if it properly meets your personal development plan objectives, it could also be counted as CPD. Planners are creative problem solvers. As well as that material from the Institute, the practice advice note lists three resource packs for professionals, which could be adaptable for an (online) classroom event: Place Standard, Voice Opportunity Power and Building a Community in a Day.
Stories, plans and visuals of development schemes which the RTPI education team can turn into a lesson and case studies for teachers would be gratefully received. You might also want to volunteer at work to organize an insight day for a student or class as this excellent RTPI blog from Richmond and Wandsworth Councils attests, and even get the RTPI president to be part of the panel.