It's now almost a week since I returned home after representing the RTPI – alongside Chief Executive Victoria Hills – at the Conservative Party Conference 2021 in Manchester. The passionate discussions we had with Secretaries of State, ministers, mayors, council leaders, councillors, business leaders, professionals, NGOs and the general public remain vivid in my mind.
Five terms that continually cropped up during the conference were planning reform, community, zero carbon, housing and, of course, the ubiquitous levelling up. No doubt, everyone in the conference recognised the key role planning can play in joining-up key policy interventions. It was a unique opportunity for the RTPI and planners to be visibly involved in influencing future government policies and to make our voices heard.
During the four days of the Conference, Victoria and I joined as many fringe events as possible - if we were not speakers, we would ask questions, so audiences knew the RTPI was in the room. I was also delighted to see that many RTPI members were also active in conference fringe events. It was nice to meet John Acres, Andrew Taylor, Jane Healey Brown, Andrew Jones and Cllr Roger Smith.
Let's talk about planning and resourcing
My first day started with a speaking engagement at a fringe event hosted by Conservative Home - Ensuring Planning Reform Delivers Great Homes and Connected Communities. It was great to have the Housing Minister Christopher Pincher MP on the panel, along with RIBA, CIOB and RICS - an excellent opportunity to join forces to champion positive planning and better resourced planning.
During the event, I was pleased to hear Mr Pincher saying: Planning reform is at heart of Government's levelling up agenda, with the events of the past 18 months putting into focus the importance home plays in people's lives.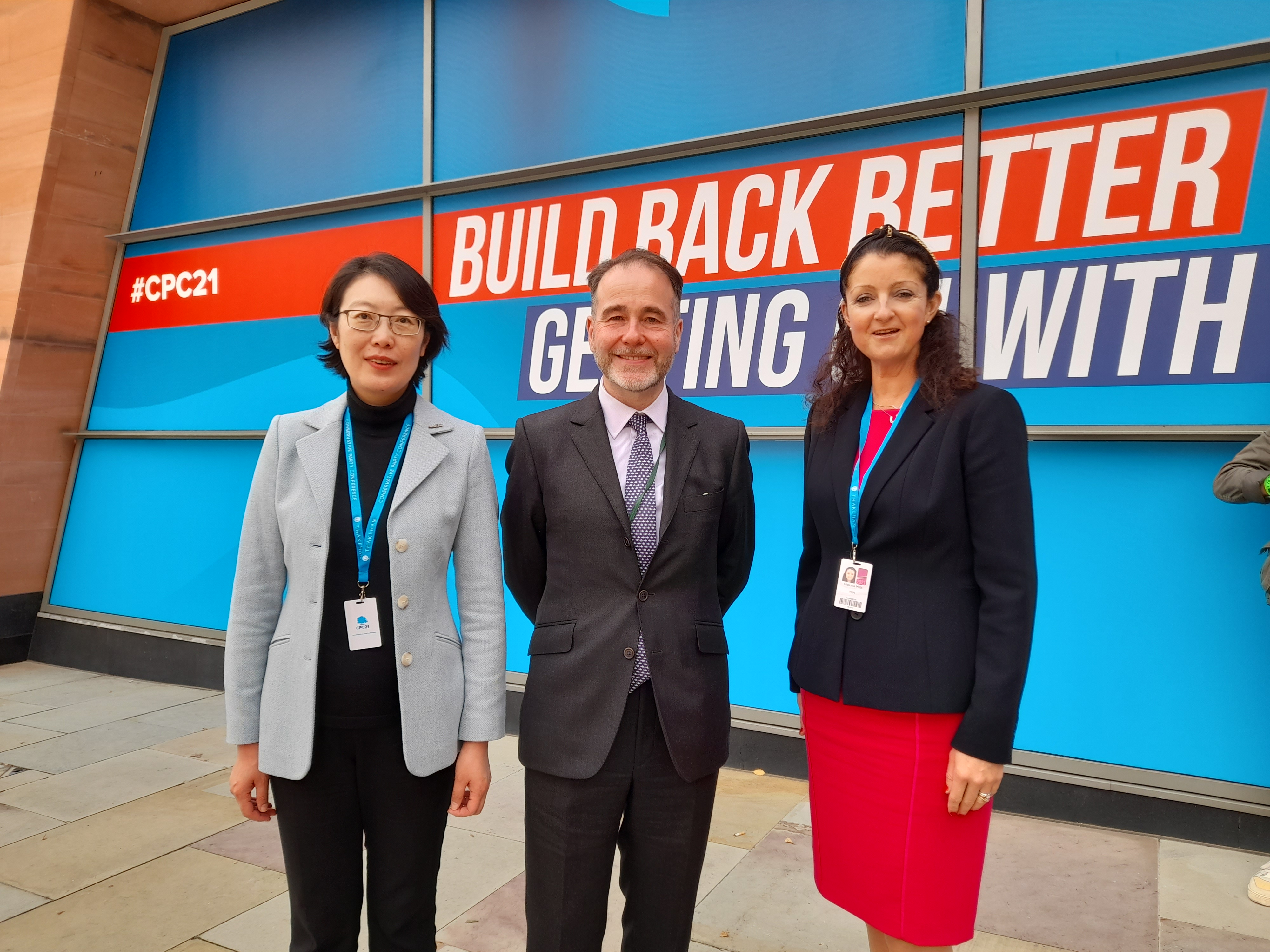 Image: (l-r) Wei Yang, Housing Minister Christopher Pincher, Victoria Hills
Planning is people-centric and it's as essential a public service as the NHS. Planners play a key role in supporting the delivery of 'levelling up', as well as beautiful homes, environmental net gain, net zero carbon emission, inclusive local communities etc. Good planning can bring the best out of people to enjoy their lives, and at the same time, contribute to our economy and society. To enable this, we need a well-resourced planning system – a point that the RTPI has made many times in recent months. Mr Pincher said he's fully aware of the issue now.
Ahead of the upcoming spending review – as important as the long-anticipated levelling up white paper – the RTPI is calling on the government to provide the English planning system with funding of £500 million over four years. That is less than £2.50 per person annually. It will generate significant long-term benefit for our communities.
Empowering local communities and rural planning
Recently-appointed Housing Secretary Michael Gove appeared at events to talk about empowering local leaders and communities and 'giving people the resources necessary to enhance the pride they feel in the place they live'. He also said that he intended to invest in urban regeneration by building homes on neglected brownfield sites, while 'allowing communities to take back control of their futures'.
Victoria gave a timely and insightful talk on this topic at an event titled Building Communities - A Stewarded Model for a Housing Led Recovery?, hosted by the independent cross-party thinktank Localis.
During the event, many organisations launched their new reports, such as Countryside's Building Communities and New Local and the New Social Covenant Unit's Trusting the People: the case for community-powered conservatism, jointly written by ten Conservative MPs.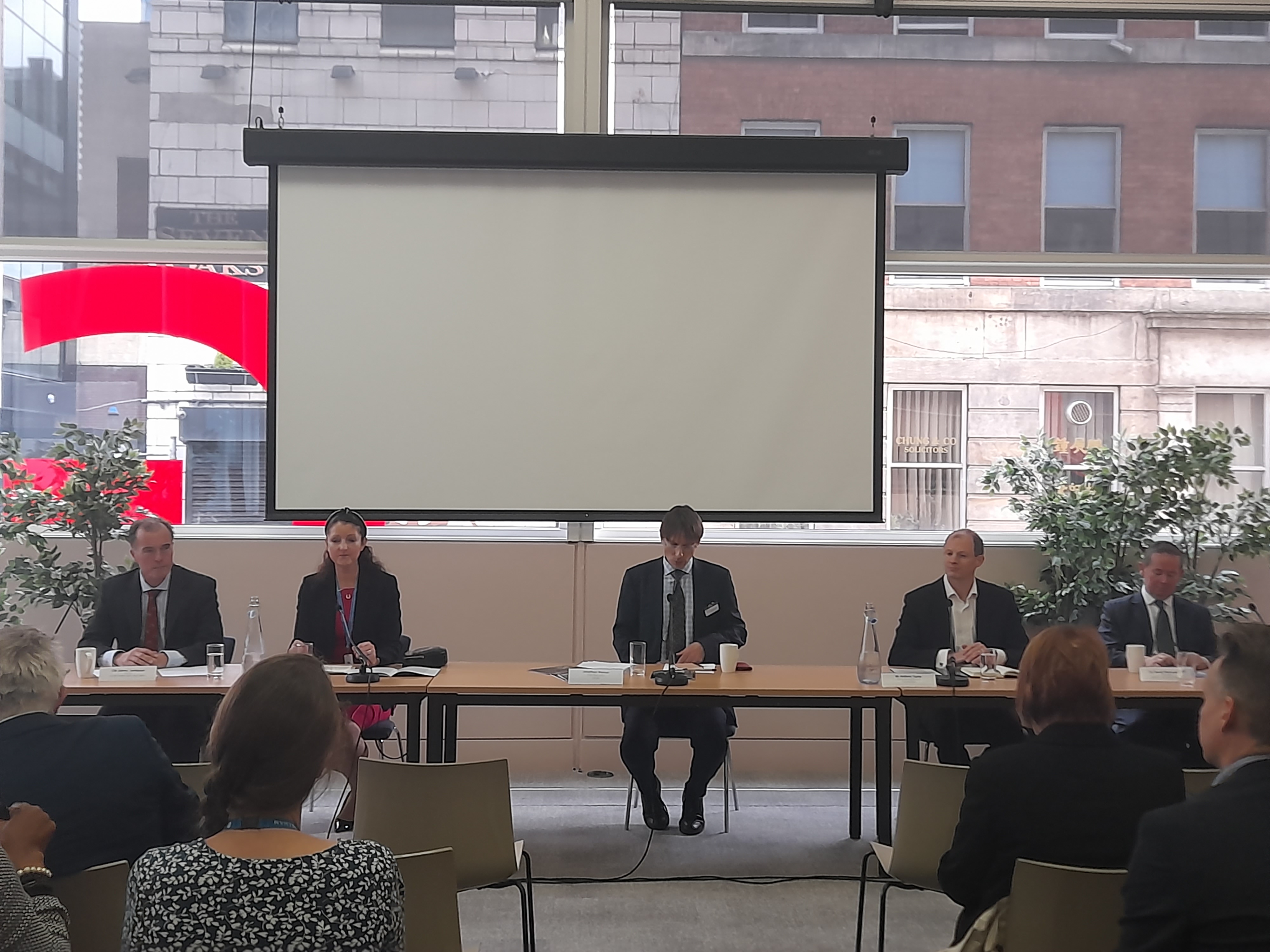 Image: (l-r) Cllr James Jamieson (Chair, Local Government Association), Victoria Hills, Jonathan Werran (Localis), Andrew Taylor (Countryside Homes), Cllr David Simmonds MP (Chair, APPG Housing and Planning)
Rural planning plays a significant role in the net zero, natural capital gain and food security agenda - the RTPI is currently carrying out research on rural planning, with findings expected in May 2022. Also at the conference, the National Farmers Union published Levelling Up Rural Britain, with the aim of 'inspiring, invigorating and empowering a new, ambitious and revolutionary approach to rural Britain'. Another key stakeholder the RTPI could join forces with.
Personal highlights
My two personal highlights were meeting Wildlife Trusts CEO Craig Bennett and COP26 President Alok Sharma MP. I am passionate about the natural environment and believe that planning will play a key role in tackling climate change. It was good to meet both of them in person.
The Wildlife Trusts launched a report Planning – A New Way Forward. Interestingly, the first page asked the same question I had asked in the joint institutes event earlier – "What is planning for?" The Wildlife Trusts' answer is "Our planning system should contain the tools we need to tackle the challenges of the 21st Century". The report proposed a new 'Wildbelt' designation to protect 30% of land for nature in order to meet Government targets for 2030.
I believe that utilising place-based spatial planning in a long-term, strategic, multi-disciplinary systems approach can be a transformative solution to coordinate the efforts from different professionals to tackle climate change, biodiversity decline, public health crisis and inequality - the great challenges of our times. It is also the most direct way to influence human activities and cultivate a low-carbon lifestyle.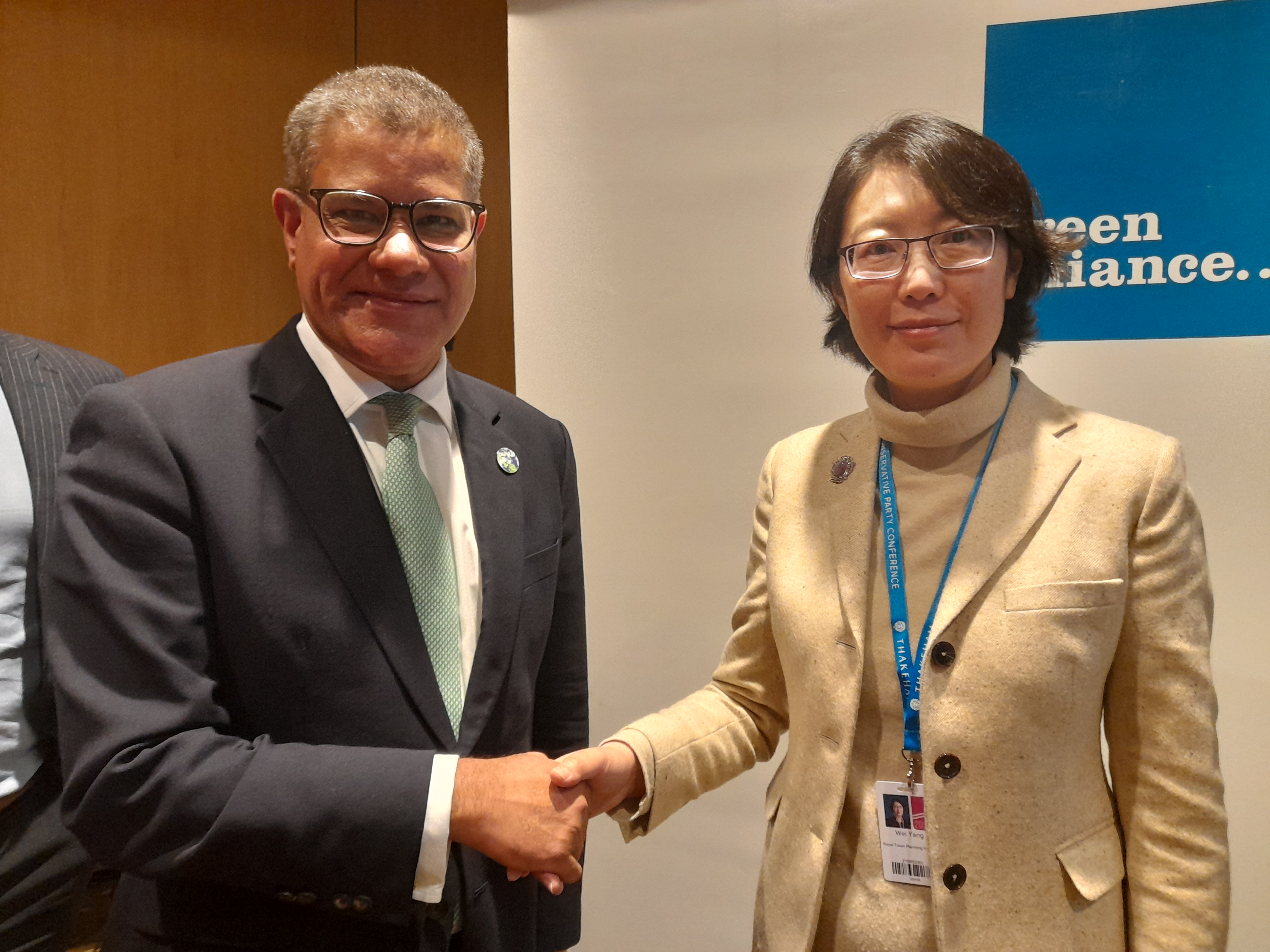 Image: Meeting Alok Sharma MP (COP26 President)
At COP26, I look forward to representing planners and other like-minded built and natural environment professionals, not only from the UK, but also globally to champion the full potential of the planning profession and multi-disciplinary joined-up thinking. The RTPI recently launched a COP26 Hub - please visit it regularly to follow our events and other updates.
A shared sense of purpose
The four-day conference passed so quickly. A special thank you to the RTPI's Senior Public Affairs Officer Robin Hayden and Director of Communications Simon Creer. Without their excellent support, we wouldn't have been able to have such a fruitful conference.
There are always more organisations we want to meet and more people we want to convince. Whether we agree with each other on details or not, at least people have realised the importance of planning. They are willing to speak with us to discuss the positive outcomes planning can bring from social, environmental and economic aspects.
As I wrote in my recent blog, I believe it is time for the planning profession to take a leadership role in forging a common and collaborative sense of purpose with other good forces in the wider society. The professional boundaries are merging; what joins us together is our shared sense of purpose - what should be done now to make our world a better place for our future generations.
Let's lead the debate and be a positive force to help achieve our shared vision.