8 March 2021
I have been waiting for today, International Women's Day 2021, to share the story of the 'Genius of the City' with you all.
In 1924, the RTPI President's Badge of Office was first presented to the members by the President at the time William Thomas Lancashire, as well as Vice President Patrick Abercrombie and Immediate Past President Thomas Hayton Mawson. The badge was designed and executed by a lady, Mrs K Winny Austin.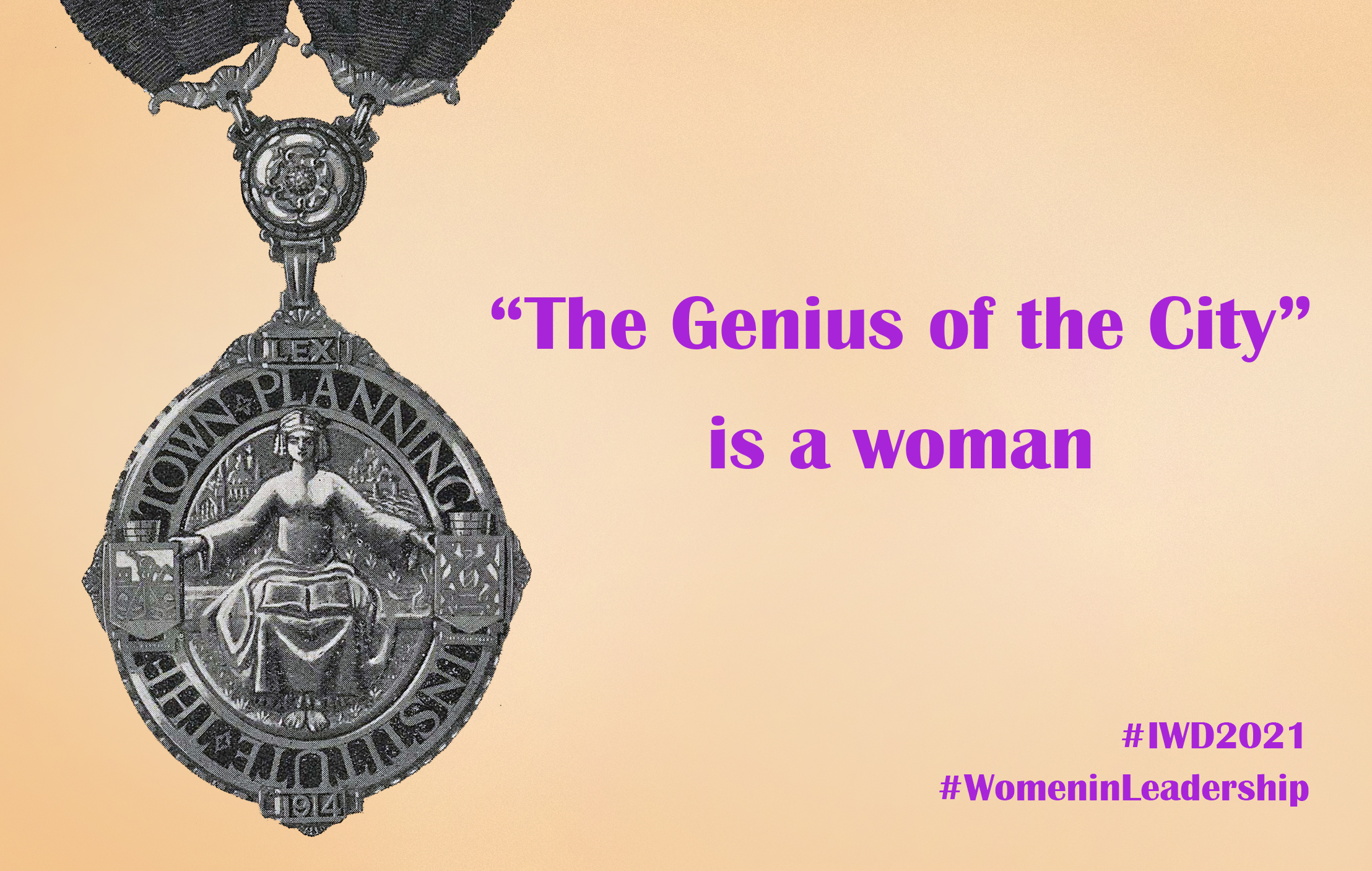 The woman in the centre of the badge represents the 'Genius of the City'. She is shown to be seated on the City Wall, the City being seen in the background. There is an open book on her knees, and on her head a diadem denoting excellence, whilst in her hands are held the shields of Architect, Engineer and Surveyor, with the words Architectus and Agrimentor engraved below.
Although it has not often been mentioned, I believe the pioneers of the planning profession – both men and women – were keen for women to play a key role in planning new communities. In the postscript to the Garden Cities of To-morrow (1902), Ebenezer Howard wrote
Woman's influence is too often ignored. When the Garden City is built, as it shortly will be, woman's share in the work will be found to have been a large one. Women are among our most active missionaries.
Almost 120 years later, the influence and leadership of women is visible and applauded across the world.
This year, the United Nations' theme for International Women's Day is Women in leadership: achieving an equal future in a COVID-19 world. The day celebrates the tremendous efforts by women and girls around the world in shaping a more equal future and recovery from the COVID-19 pandemic.
There is no doubt that women town planners will play a vital role in this important agenda.
I am proud that today the RTPI published a new research paper, Women and Planning: creating gender-sensitive urban environments post-Covid-19.
Co-authored by RTPI Policy and Networks Adviser Jenny Divine and Deputy Head of Policy and Research Prof Aude Bicquelet-Lock, the paper argues for the implementation of urban planning policies sensitive to gender-specific needs - known as 'gender mainstreaming' - into all policy, legislative and decision-making practices.
This approach, as suggested by the report, would help to ensure that future built environment solutions have equal regard to the experiences of all people irrespective of gender, particularly as the world moves into a post-pandemic recovery period.