7 February 2020
by RTPI President Sue Manns FRTPI
It is now more than two weeks since the Presidential Team for 2020 took office. The Inauguration on 22 January was a very special day. Outgoing President Ian Tant gave his valedictory speech and left everyone in no doubt that he had truly delivered what he set out to do at his inauguration. The Chain of Office was then handed over and I took on the role of President of the RTPI for 2020 on behalf of my profession. At the same time, Wei Yang formally joined the Presidential Team for her year as Vice President.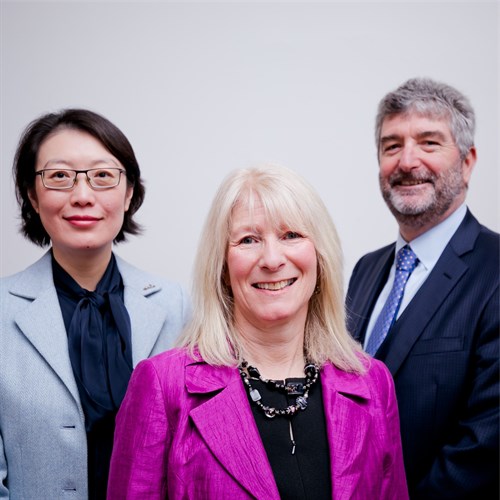 Above: The RTPI Presidential team for 2020 (l-r) Vice-President Wei Yang FRTPI, President Sue Manns FRTPI, Immediate Past President Ian Tant MRTPI
You may notice that I use the word 'team' and that is because we are a team – together we are able to extend our reach both within the profession and to those beyond. This is the first of a series of updates that we will be writing to share with everyone the work that we will be doing in 2020 to support planners and planning, the value that we bring to society and the importance of our role not just for those alive today, but for the generations that follow.
Over the coming year we hope to meet planners, fellow professionals, members of the community, politicians, the press and many others as we travel around our nations, regions and the globe, sharing with pride and confidence the message about the importance of good planning.
So, what have we done so far? This update provides a flavour of the things which we have been engaged in over the past two weeks.
The day after the Inauguration, I attended a meeting of the RTPI Apprenticeship Trailblazer Steering Group – what an inspirational set of people they are and there is no doubt that the introduction of the Apprenticeship scheme has already made a difference. "The whole dynamic of the office changed when the over-40s were joined by a 17-year-old who looked at things in a different way– he is a breath of fresh air".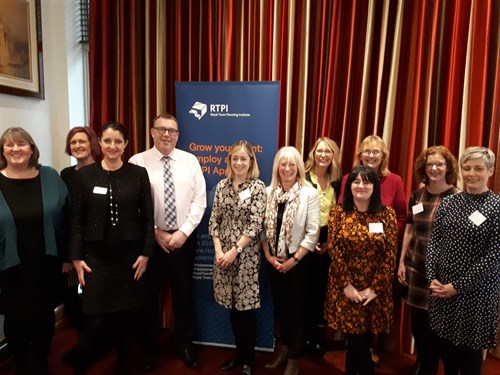 Above: Sue joins RTPI Chief Executive Victoria Hills (third from left) to thank members of the RTPI Apprenticeship Trailblazer Steering Group including chairs Philip Ridley (fourth from left) and Hannah Blunstone (fifth from left)

The morning of 28 January started early with a breakfast event hosted by the Pegasus Group, where I was able to share my passion for good community engagement with an audience of planners, developers, housebuilders and landowners – it was a great event. Later that day, I attended the London Planning Awards, where I was blown away with the quality of the schemes that had been shortlisted – it was clearly a challenge for the judges to pick the winners, but they did a great job and my congratulations go to all the winning schemes and to everyone who took part.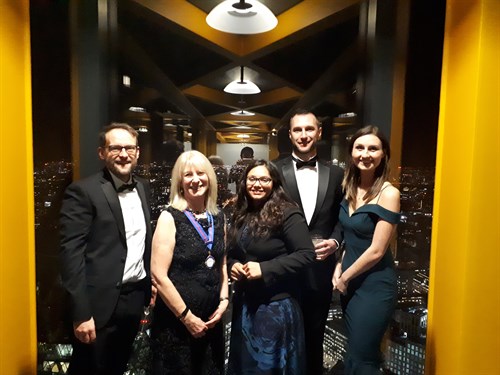 Above: At the London Planning Awards with (l-r) Tom Venables (RTPI Chartered Trustee), Lubiana Mirza (RTPI London GA Rep), Rob Krzyszowski (Chair, RTPI English Policy Panel), Beth Lambourn (Chair, RTPI London Young Planners)

29 January was an important date in the RTPI – it was the day of the Parliamentary Reception. However, before that there were some meetings to attend, including the APPG on Building Communities chaired by Bob Blackman MP and held at Portcullis House. It is clear from the nods of agreement when I spoke that the new MPs on this group recognise the importance of good engagement with communities as part of the planning process. Another meeting with Clive Harridge, Secretary General of the Commonwealth Association of Planners, gave me a real insight into the challenges faced by RTPI members across the globe. Did you know that in the UK we have 15,000 Chartered Planners for a population of 65 million, whereas in India there are 3,800 planners for a population of 1.324 billion and in Bangladesh there are 250 planners for 56 million people?
The RTPI Parliamentary Reception 2020 took place at the House of Commons. It was hosted by Sir Bob Neill MP, who spoke warmly about planners and planning. My Presidential speech followed, which emphasised the importance of an effective, well-resourced and valued planning system if we are to tackle challenges such as climate change, delivering homes of the right quality, in the right location and designed with communities in mind. The reception lasted well into the evening. I however had to leave soon after 8pm to host a dinner debate with leading members of our profession – we covered wide ranging topics from climate change to our various roles in the delivery of the Corporate Strategy 2020 – 2030.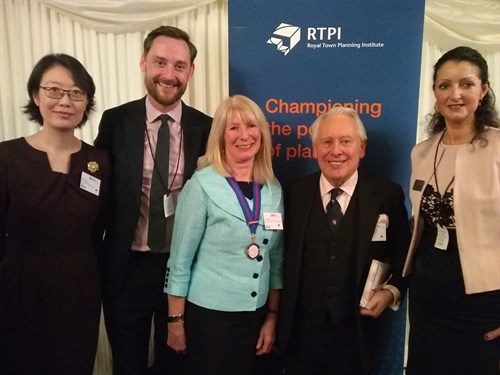 Above: At the RTPI's Parliamentary Reception, Sue met Sir Bob Neill MP (second from right) and Michael Meadows (second from left) of event sponsor British Land
Ian and Wei have been similarly very busy. In addition to the Parliamentary Reception and dinner debate, Wei also attended the Building London Summit, an excellent conference organised by London First. Three of four London mayoral candidates and the Mayor's representative answered the RTPI's question: "How will you ensure better resourced planning services to deliver communities' needs in London?" A brief note of their responses:
"… will open platforms to lobby for better resources for planning services…" Siobhan Benita, Liberal Democrat mayoral candidate
"… will set up Housing for London; give strategic considerations for planning issues; clear leadership; right places for right homes …" Shaun Bailey AM, Conservative Party mayoral candidate
"…will give full control to London's traffic laws; community led neighbourhood plans; more planners both for GLA and London boroughs…" Siân Berry AM, Green Party mayoral candidate
"…will let Borough Councils set their own planning fees; Mayor's office will provide expertise to help London boroughs increasing their planning capacities…" James Murrary MP, on behalf of London Mayor Sadiq Khan
Independent mayoral candidate Rory Stewart didn't get a chance to answer the question. His priorities for London are "Safety, Planning System, Transport".
Ian attended the retirement celebration for Paul Everall who for the past 14 years has been the Chief Executive of Local Authority Building Control. An important role of the Presidential team, alongside the Chief Executive, is maintaining contacts and relations with our fellow built environment professions, enabling and ensuring close cooperation and collaboration on the range of issues that are of mutual concern.
He also travelled to Norwich to attend an all-day Careers event on Saturday at the University of East Anglia, from which I gained my first degree. While the university doesn't have a planning school, its geographers and environmental scientists have a stock of skills that stand them in good stead for a career in planning - and Ian's role (alongside representatives of Milton Keynes Council and Boyer Planning) was to encourage as many of the students as possible to consider this career choice. A choice that none of the Presidential team regrets making.