by RTPI President Sue Manns FRTPI
It was 'full steam ahead' in October as the Presidential Team travelled virtually the length and breadth of the UK Nations and Ireland to meet members, politicians and others with an interest in planning and the power of good planning. This report showcases the highlights of this busy month. 
1 October
The month started with a recording session for a new YouTube video for RTPI Accredited Planning School Students. The session was chaired by RTPI Young Planner of the Year Robyn Skerratt who was joined by panellists Vice President Wei Yang, Northern Ireland Young Planner of the Year Ryan Walker and myself.
The video went live on the RTPI's YouTube channel on 7 October, since when it has been watched by a growing audience of young planners and planning students.  It has proved a super way to reach out to the future pool of planners in this new virtual world, with some super feedback. Something that I very much hope we can repeat in future years.
Vice President Wei Yang represented the RTPI on the global platform with top specialists on Brand Investment at Brand Global Summit 2020: Brands for Sustainability. Another event to add to the RTPI's extensive #PlantheWorldWeNeed campaign global impact list.
The event was organized jointly by UNIDO and the European Brand Institute, Europe's leading platform of brand value with 20 years of proven experience in brand and intellectual property valuation.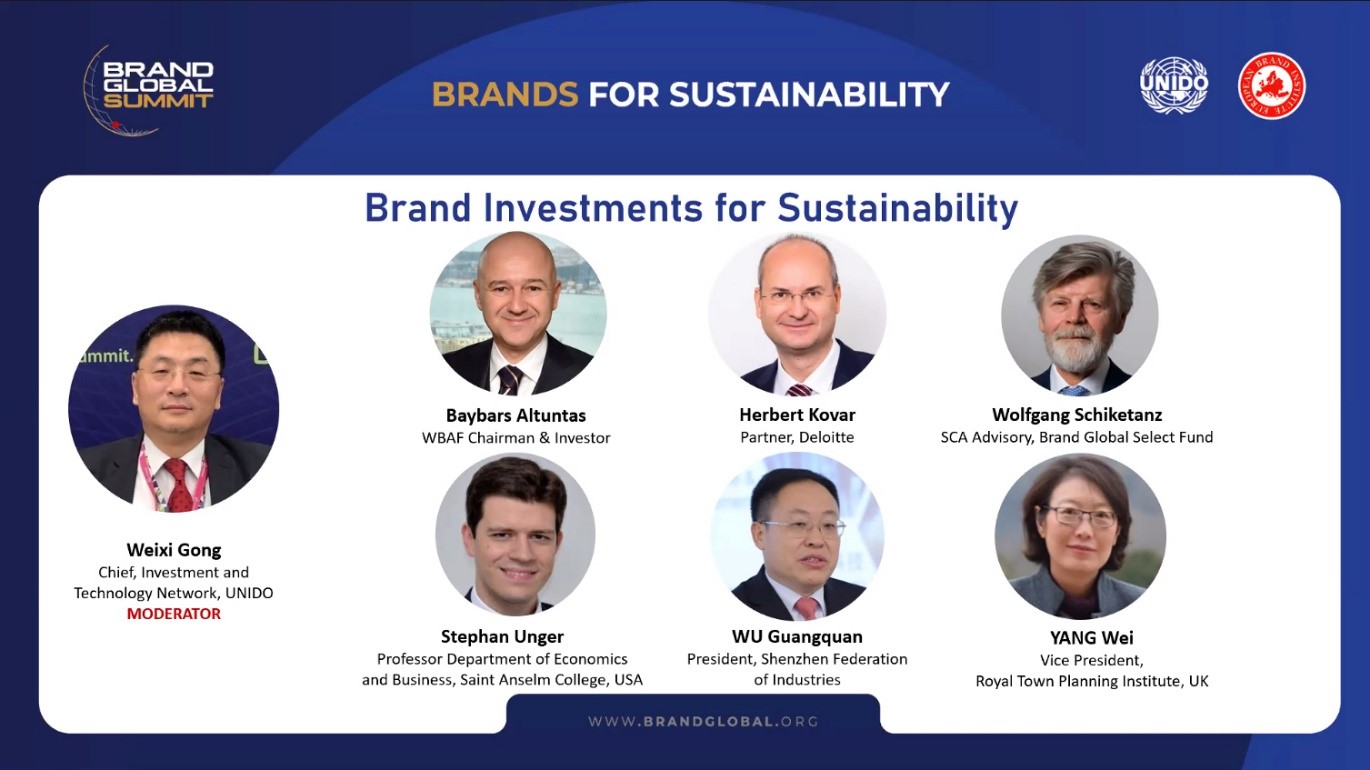 In her online presentation, Wei talked about how town planners can be critical friends of mayors and local council leaders to develop Unique Selling Points of cities and towns. Using Milton Keynes as a case study, Wei illustrated that by investing in people, nature and innovation, city branding strategies can help attract inward investment and benefit both local businesses and the whole community. The Summit gathered top decision-makers from politics, business, science, international organizations and diplomacy, as well as representatives of regions from more than 50 countries, to share knowledge, exchange forward-looking practices and experiences for accelerating sustainable development through branding of products and services.
5 October
The RTPI, RIBA, RICS and Chartered Institute of Building hosted a virtual Conservative Party Fringe Event to discuss the question 'How can 'Planning for the Future' deliver the high quality well-designed homes we need?' I was privileged to chair this event on behalf of a combined membership of over 175,000 skilled built environment professionals.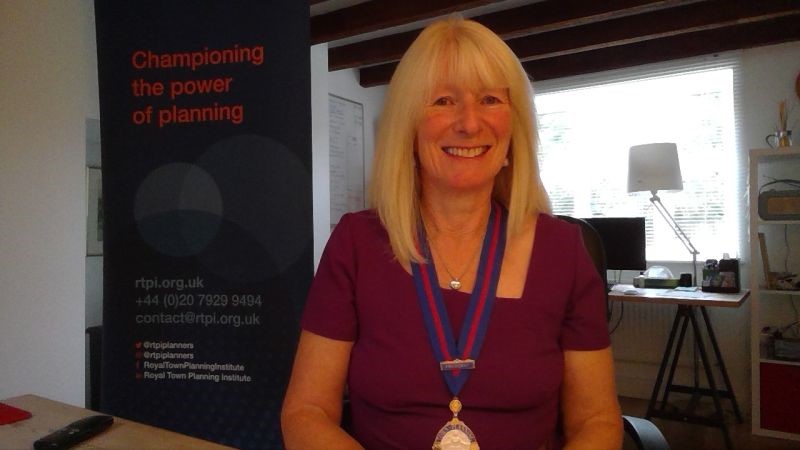 Recorded live, the speakers were Housing Minister Christopher Pincher MP, Chair of the APPG on Housing and Planning David Simmonds CBE MP, RTPI Chief Executive Victoria Hills, RIBA President Alan Jones, CIOB's Joseph Kilroy and Tamara Hooper of RICS.
Having heard from the speakers, the webinar was opened up for questions, with recurring themes including the importance of place, quality of homes, design, engagement, resources and infrastructure provision.
6 October
Vice President Wei Yang spoke at the Futurebuild/Edge joint webinar Infrastructure Action Plan – In Place Now!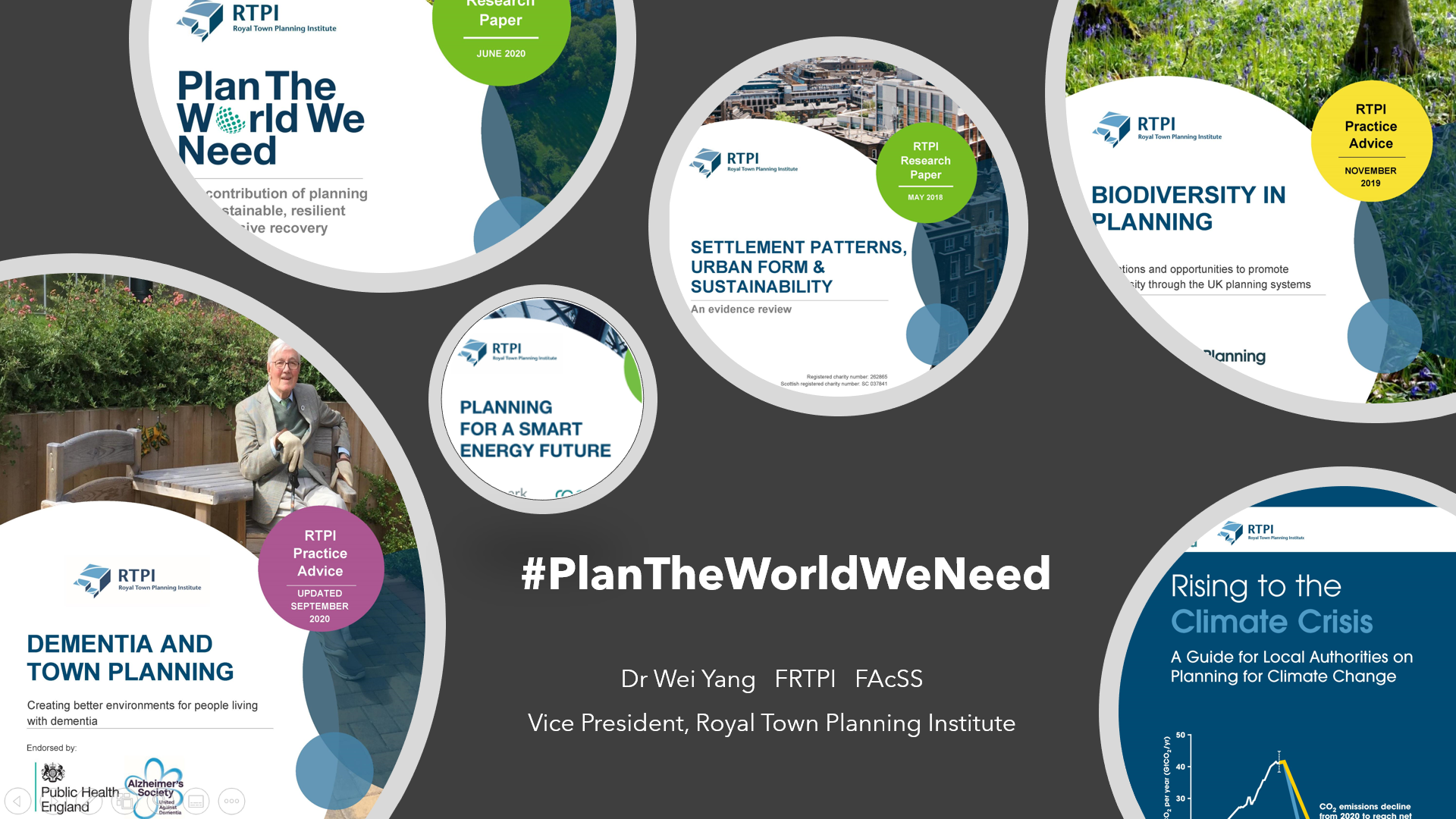 In her presentation 'Plan the World We Need', Wei argued the need for long-term thinking, positive and proactive planning: "A futurist once said that in a short-term society, we ended up feeling like we didn't have control over our future. We feel like we are trapped. But we can push through that, to plan the world we need, for us, and more importantly, for our future generations".
Other speakers in the panel were from Committee on Climate Change, Arup, Expedition Engineering, and Grantham Institute of Climate Change and Environment of LSE.
7 October
I was delighted to join the RTPI Ireland Planning Law Lecture 2020.
The Annual Law Lecture is an important part of the planning calendar in Ireland and a key RTPI event. The 2020 Lecture certainly did not disappoint, with Eamon Galligan SC providing an insightful update on planning law activities in Ireland over the past year, explaining key cases and the various matters that were central to the decisions. Many of the issues discussed, although focused on Ireland, also have a resonance across the UK nations.
It was a pleasure to be invited by the RTPI Ireland Chair Aidan Culhane to propose a vote of thanks at the close of the event.
12 October
The next stop on the 'virtual' RTPI President's tour of the UK and Ireland was in Sheffield where I joined a webinar hosted by RTPI Yorkshire Chair Philipp Tschavoll-Selenko. We were joined by Neighbourhood Forum members from Kelham Island and Neepsend, together with developers CITU, who took us through the history of the area from its industrial origins to today.
Set alongside the River Don, Kelham Island was the birthplace of Sheffield's steel industry. Historic buildings now sit next to cutting edge architecture and innovative housing, with a mix of new cultural industries and long-standing businesses.
The local community is forging ahead with a Neighbourhood Plan to give themselves a greater voice in how Kelham Island and Neepsend develops in the future. The process has brought the community of 5,000 people and 150 businesses together through a shared vision, exciting initiatives and community projects. The benefits of this work are evident. Not only was the area voted the best neighbourhood in the UK and Ireland in 2019 but the social support that the community put in place in response to COVID-19 is evidence of something quite special which will endure for the benefit of all.
Thank you to Philipp and to Chris McKinney, John Clephan, Andy Cook, Brooke Shipley, Rob McMenemy, Ben McGarry, Anders Hanson and Cllr Douglas Johnson.
Later that day it was off to meet with Young Planners from Yorkshire and the North West regions - they really are shining examples of the brightest and best in our profession. Their passion for planning shone through for all to see during this virtual visit.
Chaired by James Forrest (Arup), there were presentations from Jen McWilliam (Wigan Council) who compared city centres, town centres and local centres during COVID-19, identifying the winners and losers; Thomas O'Kane (P4 Group) who spoke about re-imagining spaces during a pandemic; Emma Bilton (Quod) who focused on Leeds Bradford Airport and its plans for a sustainable future; and Rachael Wade (Arup) who discussed the digital engagement work that she had been involved in as part of the Grimsby Town Centre Masterplan. The team was then joined by Olivia Pemberton (Savills) and Amy Brontë Littlejohns (Maddox Assocs) for an insightful and thought-provoking discussion focusing on the range of issues raised.
A recording of the visit is now available on the RTPI You Tube channel and I strongly commend it to you. It is good to see that the future of the profession rests in such capable and talented hands.
13 October
It was an early start as we headed off to Rathlin Island, the only inhabited island off the Northern Ireland coast (near Ballycastle). It really should be at the top of everyone's list of places to go.
Rathlin Island is a unique and very special place. Chaired by Angus Kerr, the webinar also featured Michael Cecil, David Quinney and Catherine McEvoy who explained how the island community and Department for Infrastructure had worked together to develop a planning strategy and implementation plan for Rathlin Island.
Bringing the community together to see the positives of the island and shape its future was the first challenge. Using an appreciative inquiry approach, around 100 of the 160 residents got involved, with graphic artists capturing views and reflecting these in the strategy.
An implementation plan followed, with the first project being the refurbishment of the Manor House by the harbour, now a thriving focal point for the community and visitors alike. Future projects include innovative plans for the future of the lighthouse - watch this space!
Many thanks to all involved in this virtual visit - Michael Cecil, David Quinney, Catherine McEvoy, Roisin Willmott, Angus Kerr, Alistair Beggs, Joanna Dreggin, David Worthington, Mura Quigley, Emma Waller and Ryan Walker.
14 October
As part of the RTPI General Assembly meeting, I was honoured to present the RTPI Learning Partner Award 2020 to Optimis Consulting.
The Learning Partner Award recognises the importance that the RTPI places on employers who support the Continuing Professional Development of planners.
The Optimis Consulting Graduate Programme provides a comprehensive education in the planning and development profession for graduates to take control of their career in a nurturing, supportive environment, where a range of expert mentors guide and invest in a learning programme tailored to develop the individual skills of each graduate.
Throughout lockdown, Optimis encouraged all planners to increase their CPD alongside their fee-earning activities. The judges were especially impressed with how they supported graduates to gain a wide variety of skills and develop a range of specialisms, together with volunteering opportunities which provided an opportunity to make an impact in a related area beyond planning; together with camaraderie and CPD, these were prioritized throughout lockdown.
Congratulations to Optimis Consulting - worthy winners of the 2020 RTPI Learning Partner Award.
15 October
Next, it was off to the North West again. I was delighted to join the RTPI North West Region's Local Planning Authority Champions lunch event. Chaired by Kim Cooper, the RTPI Champions came together to share thoughts on a range of topics.
It was clear that planning teams across the North West have been flexible, adaptable and resilient in the face of COVID-19. All agreed that there have been a number of positives emerging, not least the lack of a daily commute, but also issues that need to be addressed in terms of the new remote working arrangements including the need to support junior staff and those not coping so well and to find ways of recreating the informal contact that supports innovation. Another real positive had been the digital webinars and CPD sessions that had been put in place during the pandemic; these had brought people together and enabled those in more remote areas or those with other commitments to attend when they could not otherwise have done so – there was a strong view that this should continue post COVID-19.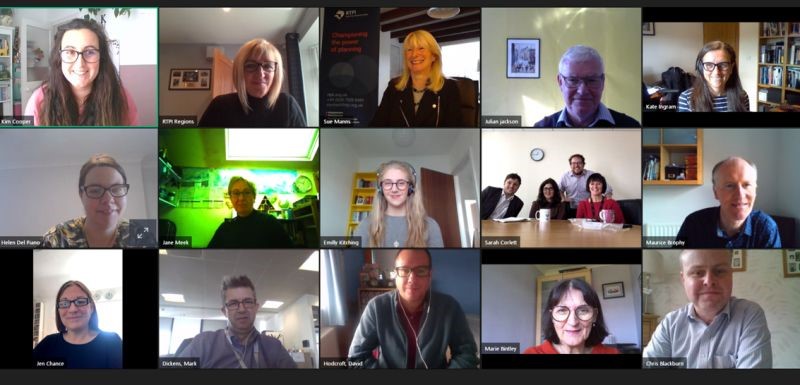 All agreed on the importance of RTPI membership and there was evidence that where authorities do pay member fees, this improved recruitment and retention, making it great value for money.
Resources, valuing the profession, championing the power of planning and having a Chief Planning Officer at the 'top table' were key themes.
My thanks to Mark Dickens, Chris Blackburn, Maurice Brophy, Adrian Fisher, Marie Bintley, Helen Del Piano MRTPI, Jane Meek, Kate Ingram MRTPI, Sarah Corlett and team, Mark Cawood, David Hodcroft, Jen Chance, Julian Jackson, Emilly Kitching, Beverley Watson, Kim Cooper.
16 October
Vice President Wei Yang attended a Habitat Professional Forum (HPF) meeting. HPF is an UN-Habitat body which consults planners, architects and engineers on global policy and strategic issues.
The RTPI's Past President Vincent Goodstadt also attended the meeting. Wei and Vincent were both appointed to represent the Global Planners Network, of which the RTPI is a key member.
Wei said: "Planning's contribution to inclusive, sustainable cities and communities has no doubt been recognised globally, so it's excellent news that the RTPI is increasing its presence and engagement with the UN.
"We will further demonstrate and strengthen planning's position as mission critical to climate action and sustainable development at the highest level and are looking forward to sharing the joint expertise of Global Planners Network member institutes with the HPF and other global built environment professionals.
"Using the RTPI's Plan the World We Need campaign, our aim is to ensure that planning is recognised as vital if we are to achieve UN Sustainable Development Goals and a green recovery from COVID-19."
19–23 October – Enforcement Week
Immediate Past President Ian Tant chaired the opening and closing sessions of the RTPI/National Association of Planning Enforcement Planning Enforcement Week. The presentations remain available to view on the RTPI's YouTube channel for those wishing to catch up.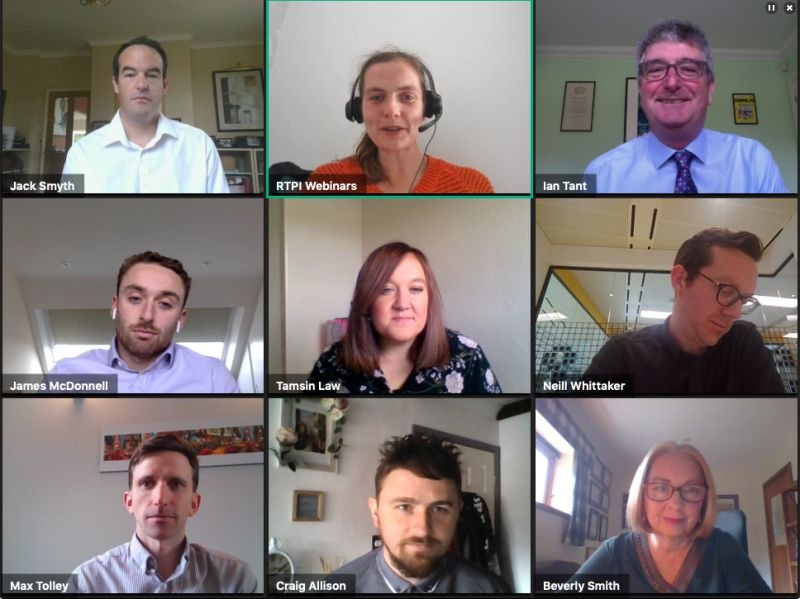 20 and 21 October
On 20 and 21 October, the focus for the Presidential virtual tour was the south east of England. The visit started with a 500-mile whistle stop tour showcasing the very best of planning in the region.
Chaired by Eleanor Gingell, this tour took in eight counties, dropping in to share experiences of projects ranging from the 'Creative Estuary' in Kent, five nationally significant infrastructure projects (Lower Thames Crossing, The London Resort, Southampton to London Pipeline Project, the AQUIND Interconnector and M3 Junction 9, A34), a heritage-led regeneration project in Folkestone and Huntley Wharf regeneration scheme in Reading, before coming to an end in Milton Keynes, hometown of the Regional Chair.
As the tour drew to an end, I was honoured to present the Award of Fellowship to two Chartered Members from the region - Stephen Harness (Defence Infrastructure Organisation) and Gareth Giles (Whaleback Planning & Design).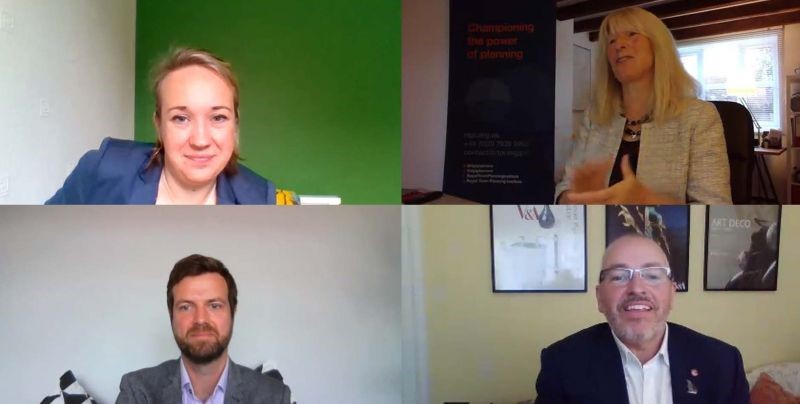 The Award of Fellowship of the Royal Town Planning Institute recognises those who have made a major personal contribution to planning and the planning profession. Through their work both Steven and Gareth have delivered innovative and creative solutions in response to a range of planning challenges, they have both been active members of the RTPI South East region and given time to support others and the wider community. I am so pleased to see that the inspiring work of Steven and Gareth has been recognised by the RTPI through the Award of Fellowship.
It is also really important that our Fellows reflect our diverse membership. Fellows are role models for our younger planners. With this in mind we need to celebrate the achievements of more women, more BAME planners and more planners with disabilities. If you know someone who you think should be a Fellow, please encourage them to apply
Later that day, I was delighted to join a webinar chaired by Sue Percy, chair of the judges for the RTPI Regional Awards 2019. The webinar focused on Milton Keynes where Michael Moore from Milton Keynes Council and David Carlisle (AECOM - Buildings Places) explained the background and process of preparing Plan:MK (2016-2031) which was delivered on time through the use of a dedicated project manager and with significant stakeholder and community support. It is little surprise that it was the RTPI South East Regional Award Winner 2019.

The presentation was followed by an inspirational session with the RTPI South East Young Planners of the Year for 2018 (Jeffrey Ng, West Berkshire Council) and 2019 (Laura Archer, Barton Willmore). What talent and insight they have into planning and the future that they want to be a part of shaping. Both are extremely worthy winners of the South East Young Planner Awards and great role models for other Young Planners.
The RTPI Degree Apprenticeship Scheme was launched in 2019. It provides a route into the profession for many who would not otherwise have been able to fulfil their ambitions and in doing so helps to widen the diversity of our profession.
On 21 October, as part of the RTPI South East visit, I was delighted to join a session chaired by Chris Maidment (University of Reading) to meet with three apprentices (Alishba Emanuel, Amber Willard, Andrew Motley), their employers (Daniel Vick of Arun District Council, Ann Howells of Uttlesford District Council) and their tutors (Helen Walker and Georgia Wrighton of the University of Brighton) to share experiences and reflections on the first year of the Apprenticeship programme.
The apprentices clearly appreciated the opportunity to connect the academic side of planning with practical experience in a planning team. Workplace support was 'really crucial', with employers and tutors described as 'brilliant'. The enthusiasm and commitment of everyone involved was evident and there is no doubting the significant contribution of the scheme in ensuring a diverse and talented pipeline of future Chartered Town Planners; thank you all.
The visit to the south-east ended with a virtual dinner. 'Come Dine' with the RTPI South East Young Planners if you want a really special evening that you will remember for many years to come - the guest list was awesome.
Laura Archer (Barton Willmore) and Simon Kennedy (Havant Borough Council) of South Coast Young Planners, Annabel Le Lohé MRTPI (Storey Homes) and Suzi Green MRTPI (Bidwells) of Thames Valley Young Planners, and Harriet Richardson MRTPI and Nicholas Webb (both Batcheller Monkhouse) of Kent Young Planners put together an amazing guestlist, inviting some of the greatest and most inspiring planners from the past and present, including Jane Jacobs and Sir Patrick Abercrombie and the current RTPI South East regional chair Eleanor Gingell.

Whilst I can only imagine how the conversation would have flowed, I know for certain that it would have been lively, creative, thought-provoking and inspiring, just as the conversation with these six young planners was. Once again, I can confirm that the future of planning and the profession is in very safe hands.
My thanks go to all those involved in organising this very special President's visit to the south east region.
23 October
The next visit was to the RTPI South West region to do some 'island hopping', taking in Jersey, Guernsey and the Isles of Scilly where exemplary island planning was the focus of a fascinating webinar.
Organised by RTPI South West and chaired by Dawn De Vries, the first stop was Jersey, where Kevin Pilley explained how climate change impacts and the Shoreline Management Plan had fed into the Island's plan review.
A short journey by sea and we were welcomed to Guernsey by Jim Rowles and Simone White who took us through the fascinating history of Leale's Yard and the challenges of planning for the regeneration of an area prone to flooding and the effects of climate change.
A slightly longer trip took us to England's most westerly location, the Scilly Isles, where Lisa Walton outlined how the islands have become a beacon for sustainability through the Smart Islands Partnership.
A key theme to emerge from each of the presentations was the benefit of an integrated and holistic response to climate change challenges, linking solutions to different problems and community engagement in a way that delivers real added value.
It really was an excellent visit and my thanks go to all involved. Do join the visit - it is well worth watching.
27 October
Vice President Wei Yang attended a roundtable titled Planning for Sustainability and Beauty, hosted by Inside Housing with H H.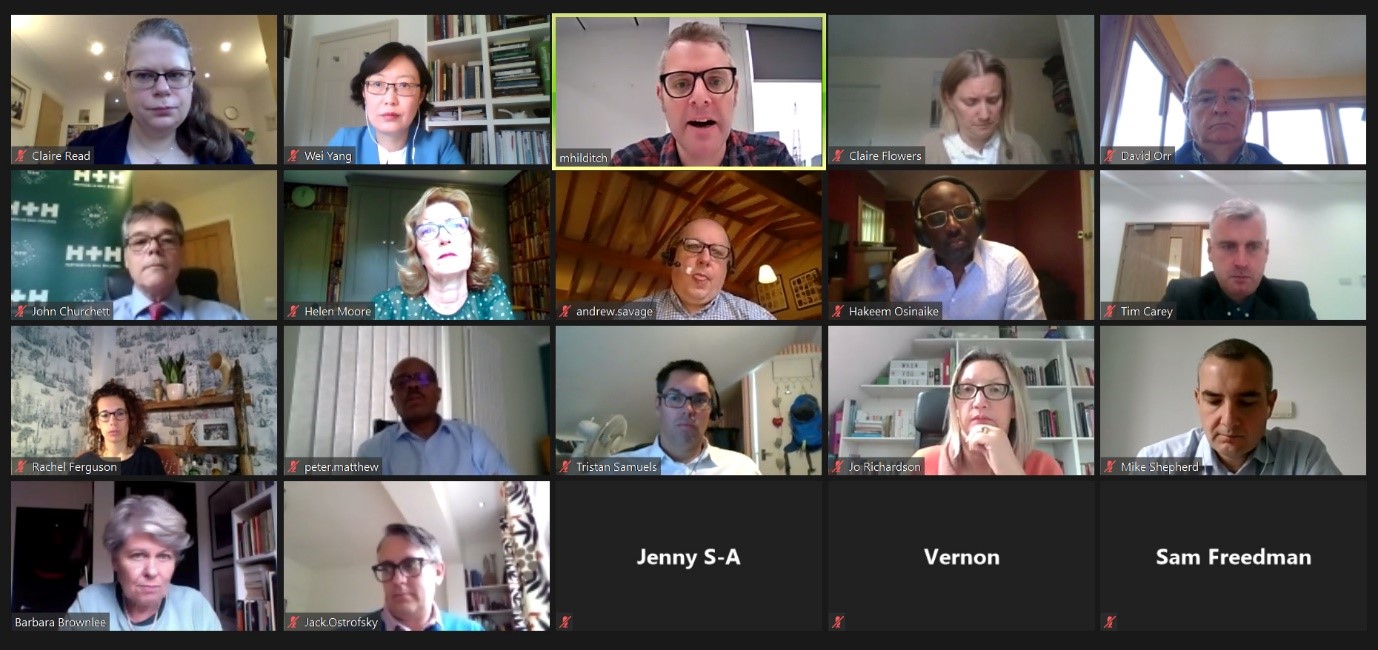 Chaired by Inside Housing editor Martin Hilditch, the roundtable brought together a small panel of experts, including Jo Richardson (Incoming President of Chartered Institute of Housing), Barbara Brownlee (Executive Director of Growth, Planning and Housing, Westminster City Council), Claire Flowers (Head of Housing Development, Cambridge City Council), Jack Ostrofsky (Head of Quality and Design (Development), Southern Housing Group), Peter Matthew (Executive Director Housing, Planning and Communities, London Borough of Hounslow), Hakeem Osinaike (Director of Housing, Brent Council) and other experts from local authorities and the built environment industry.
During the roundtable discussion, Wei emphasised that 'planning is about people's health and well-being. Town planners have made significant contributions to our society to-date. For more than a century, town planners have been building not only housing, but communities, where people call them homes'.
Wei also shared the key findings in the RTPI's newly launched report Invest and Prosper, and commented 'we can demonstrate that investing in planning can return dividends, in both economic and social terms'.
In the end, Wei reemphasised the RTPI's position that 'certainty for planning departments will be key to ensuring continuing investment in infrastructure and development'.
The debate will be written up for a report to be published in a November issue of Inside Housing as well as online.
29 October
A visit to the East of England provided a totally inspiring opportunity to visit the winners of the RTPI Silver Jubilee Cup 2020 –the Marmalade Lane co-housing scheme.
Having been a judge of the Silver Jubilee Award for 2020, it was an absolute pleasure to hear more about the scheme from those who had been key to its delivery, exploring the value of this approach to planning from the perspective of the landowners, designers, developers and residents.
Chaired by Charlotte Burton, there were presentations from Meredith Bowles (Mole Architects), Trevino Monteiro (South Cambs District Council) who gave the local authority perspective, Neil Murphy from developers TOWN and resident Frances Wright.
Key messages to emerge were the sense of 'ownership' that co-housing supported, the dividends that flow when designers and the community work together from the start, the 'trade offs' that have to be made as the design proceeds – for example, between parking spaces and community space – and the importance of designing a place with social interaction at its heart. The benefits of the latter have become very apparent as a result of the current COVID-19 crisis, where the community and the development model have shown how lasting social resilience can be 'built' into a development.
The webinar was recorded and I highly recommend viewing it on the RTPI YouTube channel.
30 October
At least one in seven of the population are neurodivergent in one way or another - this is a significant minority. However, this diversity is not widely acknowledged or understood by planners or indeed many others in society.
A new Neurodiversity in Planning network was launched as part of a joint RTPI London and North West webinar, chaired by Layla Vidal-Martin MRTPI.

The webinar 'Neurodiversity in planning: let the conversation begin' aimed to improve planners' understanding of neurodiversity, what it means to be neurodivergent, why it is important and why planners and urban designers should be more aware of it. Using examples of how people interact with the world through their senses, Prof Nick Tyler from UCL set out what this means for design, Keeley Mitchell provided an amazing insight into the basics of neurodiversity and Gala Korniyenko shared her research into autism and design.
A poll in the session revealed that neurodiversity was not a topic that was often spoken about - so let the conversation begin!