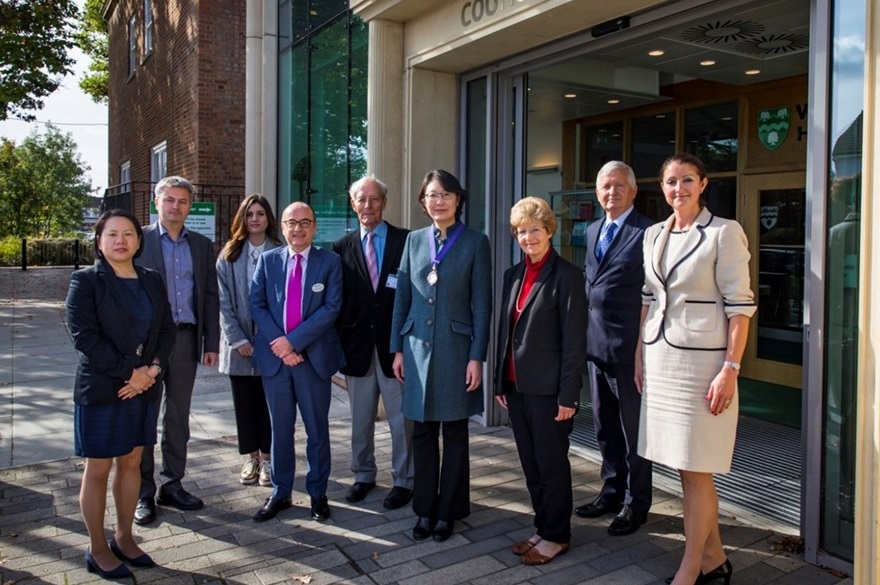 [Left to right: Ka Ng, Chris Dale, Alexia Kallini, Tony Kingsbury, Tony Skottowe, Wei Yang, Wendy Hague, RTPI East of England regional activities commitee, Stephen Boulton, Victoria Hills]
On 11th October, I was delighted to visit Letchworth Garden City and Welwyn Garden City for my East of England presidential visit with RTPI Chief Executive Victoria Hills. It was certainly one of the most memorable days in my Presidential Year.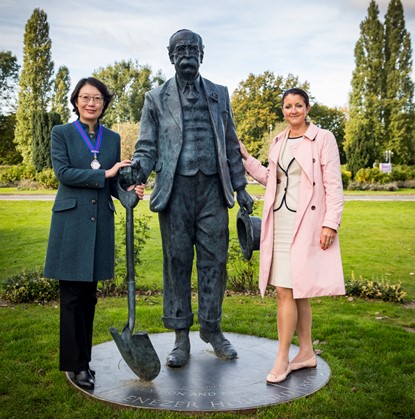 The Garden City Movement is the foundation of modern Town and Country Planning. In 1898, Sir Ebenezer Howard published his ground-breaking book To-Morrow: A Peaceful Path to Real Reform. It's remarkable that after the book's publication, it only took 5 years for Howard to start the world's first Garden City - Letchworth - in 1903. The second Garden City in Welwyn was built in 1920.
American historian Lewis Mumford (1946) described Garden City as one of the two great new inventions at the beginning of the twentieth century. The other one is aeroplane, which 'gave man wings', whereas 'the Garden City promised him a better dwelling-place when he came down to earth'.
My presidential visit started from Welwyn Garden City in the morning to officially congratulate the Garden City's Centenary on behalf of the Royal Town Planning Institute. Earlier in the summer, I had the privilege to be interviewed by the TCPA in the film 'The Welwyn Experiment – a century of innovation'. Built after the First World War, Welwyn Garden City provided the garden city model with an opportunity to make a fresh start in relation to the challenges of the time.
Victoria and I was delighted to meet Welwyn Hatfield Borough Council Chief Executive Ka Ng, Leader of the Council Cllr Tony Kingsbury, Cllr Stephen Boulton Executive Member for Growth, Infrastructure & Planning, and Head of Planning Chris Dale at the Council's Chamber. It was a particularly insightful meeting to understand the current opportunities and challenges facing the future growth of the Garden City.
We also had the privilege to visit the new statue of Ebenezer Howard. It's an excellent piece of artwork – a humble but determined Howard in motion. I would like to congratulate Welwyn Garden City Centenary Foundation for their success in celebrating the centenary in difficult circumstances and express my gratitude to Tony Skottowe, Chair of Welwyn Garden City Heritage Trust for hosting the visit.
In the afternoon, we arrived at Letchworth Garden City. This is my 'second' presidential visit to Letchworth – after a virtual visit in May 2021, when David Ames and Stuart Sapsford from Letchworth Garden City Heritage Foundation gave an excellent introduction about the essence of garden cities and how Letchworth had responded to the pandemic.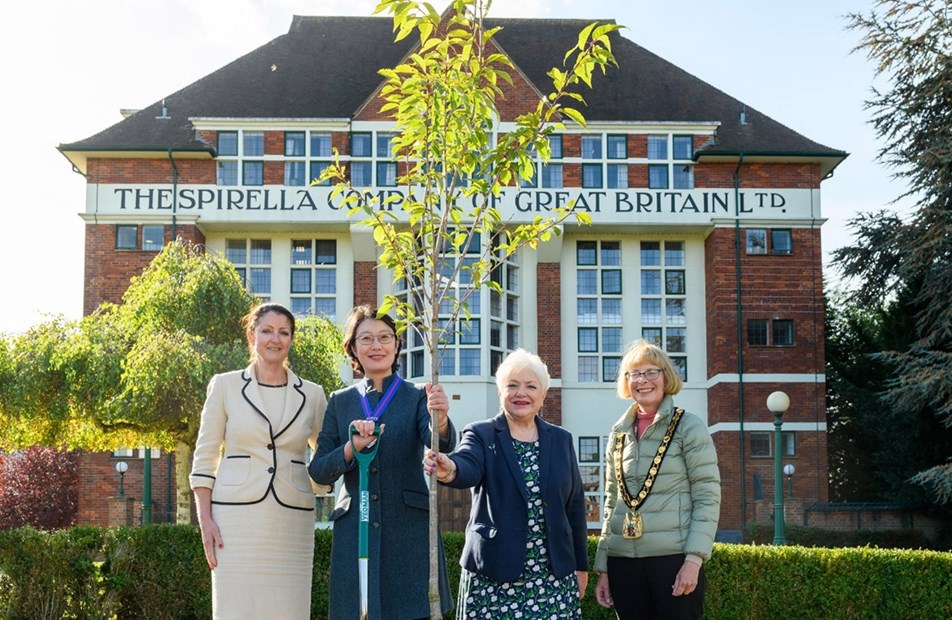 [Victoria Hills and Wei Yang with Pam burn, Chair of Letchworth Garden City Heritage Foundation and Val Bryant, Chair of north Hertfordshire District Council]
I was delighted to have the opportunity to officially visit this World's First Garden City in person as the 107th President of the RTPI. In fact, the RTPI had great connections with Letchworth Garden City. Our first President Thomas Adams was its manager in early days. Our second President Raymond Unwin was the Master Planner. Sir Ebenezer Howard himself was the first Honorary Member of the RTPI. In 1974, RTPI's Diamond Jubilee was celebrated at an event in Letchworth Garden City – the year I was born
I was delighted to mark my official visit by planting a Cherry Tree with the Chair of the Heritage Foundation, Pam Burn, Chair of the Council for North Hertfordshire District Council, Cllr Val Bryant, and Victoria Hills next to the Spirella Building. It's a way to express our great gratitude and appreciation to Howard and the Garden City pioneers and show our determination to rekindle the founding spirit to tackle the challenges we face today. It is also great to see that women now play significant roles in planning and garden city's leadership. Just like Howard had wished more than 100 years ago.
After a delightful walking tour of the garden city and a visit to the Barry Parker Design Studio guided by Josh Tidy and David Ames, I visited Howard's grave in Letchworth Icknield Way Cemetery.  It was my great honour to lay flowers on behalf of the RTPI at Howard's grave to pay our tribute for his selfless contribution and thank him for inventing the priceless Garden City model for the world.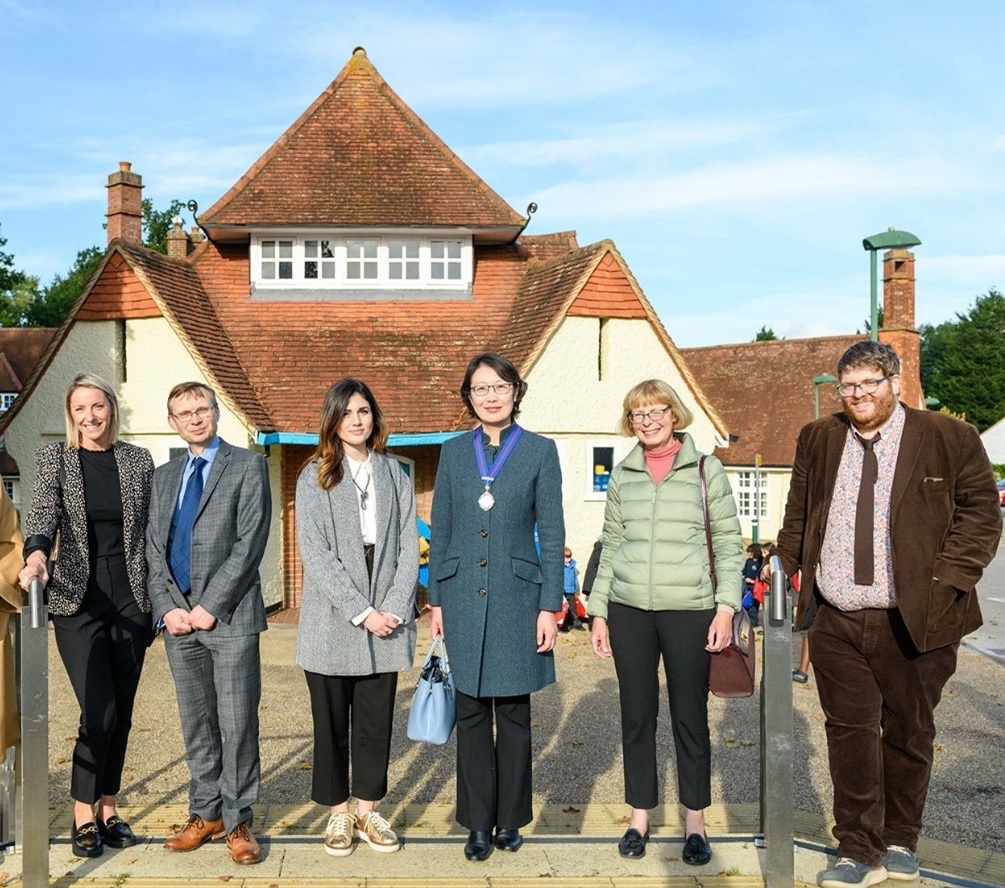 [Left to right: Stacey Bunn, RTPI East of England coordinator, David Ames, Alexia Kallini, Wei Yang, Val Bryant and Josh Tidy] 
I hope one day Letchworth Garden City and Welwyn Garden City will be recognised as UNESCO World Heritage Sites to celebrate the Garden City's significant world renown achievement and success. I believe the garden city model has a huge potential to tackle our current challenges through a community led approach. Last year, during the COVID-19 lockdowns, I was constantly thinking how Howard's vision is as relevant for us today as it was in his day, 120 years ago.
During the first lockdown, I wrote a book for the public, Humanistic Pure Land and Garden Cities (2021) with a Buddhist friend to talk about how we should plan, and how we could plan our cities and towns to address our current challenges in the 21st Century. If adapted to the 21st century context and technology, the Garden City model can provide an appealing solution to cultivate healthy and happy communities with low carbon lifestyles. It is a new civilisation – a zero carbon one, where people, nature and society co-exists in harmony.
Finally, I would like to express my gratitude to David Ames, Senior Vice Chair of RTPI East of England Regional Management Board and Letchworth Garden City Heritage Foundation for hosting my visit and thank Josh Tidy for showing us around the Garden City.
A very special thank you to our East of England Regional Management Board and Coordinator Stacey Bunn. I am grateful for Victoria Hills RTPI Chief Executive, Wendy Hague member of the RTPI East of England Regional Activities Committee, and Young Planner Alexia Kallini joining my visit.
References:
Mumford, L. (1946) The Garden City Idea and Modern Planning, introductory essay in Howard, E., Garden Cities of Tomorrow. London: Faber and Faber, pp. 29-40.