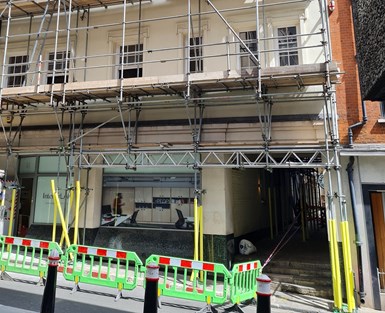 Last year the Board of Trustees agreed to make a significant investment into the RTPI's headquarters in Botolph Lane. Since then, we've been busy with the renovations and the first phase of the programme has been completed.
We have already stripped out all mechanical and engineering fixtures, partition walls and floor coverings in the building. This gave us an opportunity to see the full condition of the structure and thankfully no significant defects were found.
Since planning permission was granted at the start of May, work has started in earnest. As the office is in a conservation area permission is required for replacing and screening the plant on the roof, replacing the windows and shop front, and adding new signage.
During the works every effort is being made to preserve the character and appearance of the building while improving energy efficiency and environmental sustainability. For example, the existing single glazed wooden sash windows will be replaced with double glazed wooden sash windows.
Prior to receiving planning permission our Trustees also agreed additional funding to ensure the building complies with current regulations. This includes providing a fire roller shutter and additional fire partition, rebuilding the risers to meet fire safety standards, providing disabled refuge call points, the removal of a small amount of asbestos and replacing a leaking cold-water tank.
In addition to these essential improvements and upgrades our Trustees also committed additional funding for a bike staircase and storage rack, a new shopfront, an improved lighting design and a new balustrade for the main staircase. We are also fully committed to improving the building's accessibility and you can read more about our work on this in the FAQs below.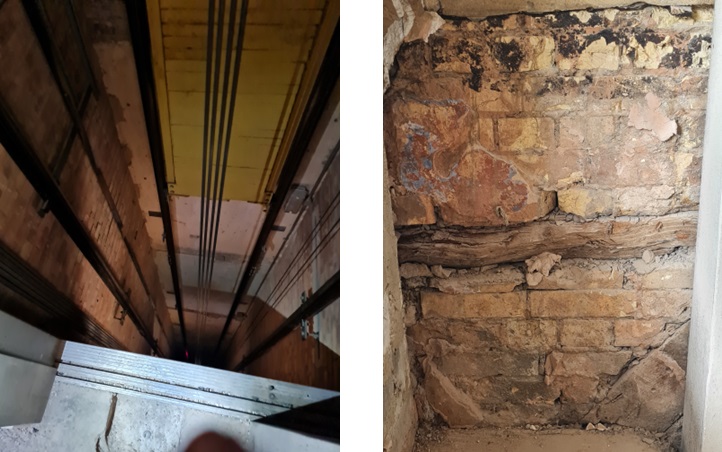 The old lift is removed (left) and on the right the hidden history of the building is revealed 
The Board of Trustees continues to regularly receive updates on the progress made with the building and the Programme Board continues to monitor the project closely.