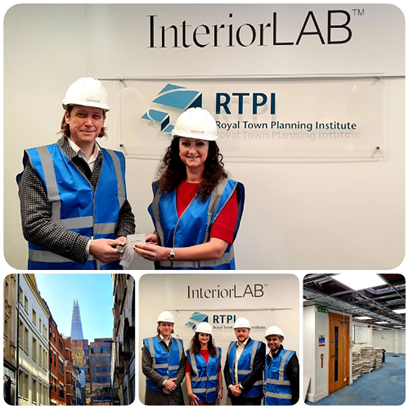 On Wednesday 15 September the Board of Trustees agreed to make a significant investment into RTPI headquarters in Botolph Lane. This decision was taken after a several detailed investigations into the condition of the building revealed that the offices are in need of improvements to meet post-covid health and safety requirements, meet current energy requirements and provide a suitable working environment for staff and volunteers. The investigations revealed that the fabric of the building is in need of refurbishment and repair. Third-party valuation reports and building assessments were commissioned and an open tender process was launched to find a contractor to undertake the works.
Now that a contractor has been appointed, the refurbishment programme is underway and is progressing well and to timetable.
Following a phenomenal effort by members of the RTPI's staff Botolph Lane was emptied on 19 November. Then on November 22 Chief Executive Victoria Hills handed the keys over to our contractor.
More than 100 crates have been sent to temporary storage for the duration of the project. A further 75 boxes have been sent for scanning and digitisation and 115 boxes have been sent for archiving.
The strip out phase of the project is now underway as the contractors are working systematically through the building removing items such as false ceilings and the old Heating, Ventilation and Air Conditioning ducts.
The Board of Trustees received an update on the progress made with the building and the Programme Board continues to monitor the project closely.
You can see FAQs relating to the refurbishment programme below which we will be regularly updating during the works: