The RTPI's London office in Botolph Lane reopened in January following an extensive retrofit. Find out below a bit more about the work involved including the stylish new members' lounge. 


Creating a flexible, modern working environment
The Retrofit programme delivered a full refurbishment and redecoration (internal and external), complete with updated furniture, lighting and finishes. It also changed the way the building is used to create a more flexible and modern working environment. For example, the basement now includes a bicycle storage area, to encourage active travel and enable colleagues and visitors to keep their bike safe while. It also has new lockers, shower facilities, a wellness room and one printer for the whole building. The ground floor area has a spacious area to welcome visitors as well as a staff breakout area, while the first floor houses the members' area with touchdown space, lounge area, presidents' office and members' library.  Office floors have reduced desk space, but more meeting rooms, as well as quiet rooms for individual working and a new digital studio to support communications and virtual event and training production.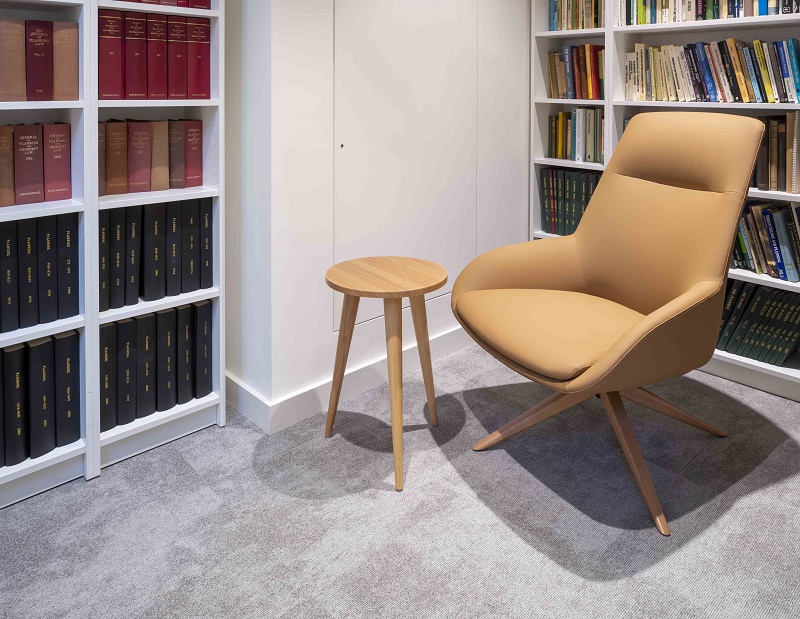 The members' library provides a calm and comfortable space


The Members' Lounge - how to book
Our Members' Lounge is an area on the first floor of the London office designed to provide a comfortable and exclusive space for our members to catch up on their emails prior or post other meetings in London or simply relax with a tea or a coffee.
Members will have access to a range of amenities, including comfortable seating, complimentary refreshments, secure Wi-Fi, and desk space with power to charge laptops and phones. You will also have access to our small library and, if you are a cyclist please let us know and you can use the bike storage and changing area on the lower ground floor.  
Please contact our main reception in advance, quoting your membership number if you would like to use the Members' Lounge on 0370 774 9494 or [email protected]
The space is available from 9.30 until 4.30pm. Due to Fire Regulations and the building capacity it is important that you book in advance. This is a private space for members and is not open to the public. Regrettably, we are not able to offer any private meeting spaces.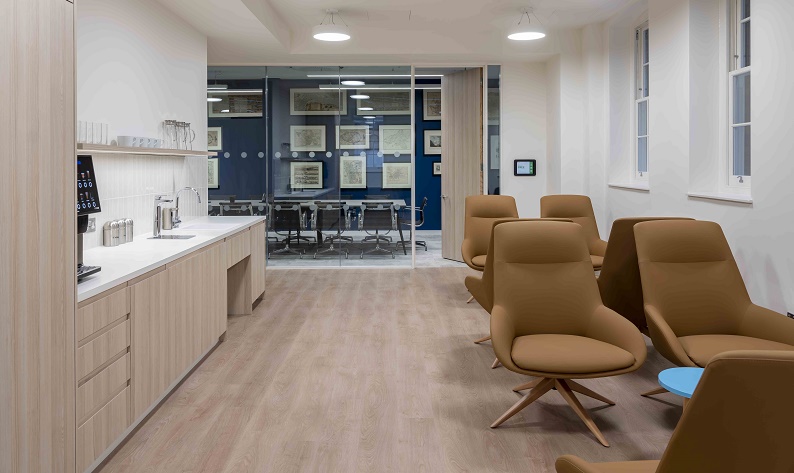 The building features a stylish new members area 
Improving accessibility
Previously the building only had disability access to the ground and first floors via an old platform lift, required because the passenger lift was not big enough to accommodate a wheelchair. On floors two to four there was also no step free access from the lift to the main office areas. With the exception of the reception area, there is now step free access throughout the building facilitated by a larger passenger lift which can accommodate wheelchair users. A small, concealed platform lift has been installed in the reception area. The number of accessible toilets has been increased from one to three and they are decorated using high-contrast colours to aid those with visual impairment. The new shower in the basement is also accessible.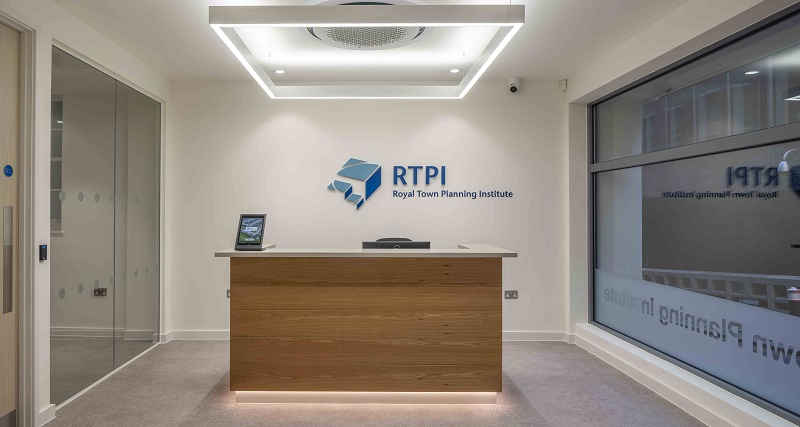 The reception area provides a smart gateway to a much more accessible building
Improving energy efficiency
Prior to the Retrofit programme, an Energy Performance Certificate (EPC) could not be awarded to the Botolph Lane building because of its poor energy efficiency. Improving energy efficiency was therefore a key part of the work on the building, including new heating, cooling and ventilation system, windows and lighting. This directly addresses actions required by the Institute's Climate Action Plan and has resulted in an EPC grade of band B being secured. With the removal of gas as a power source, use of air source heating and by switching to a 100% renewable electricity supply the building is now close to being carbon neutral.
Preserving the building as an asset and reflecting the Institute's brand
A priority throughout the Retrofit programme was delivering the best possible results within the available budget, not just to preserve the building for years to come but also to create a high-quality finish reflecting the Institute's brand. Work included replacing the old roof with a new, free-draining roof and new drainage infrastructure, and installing new hardwood windows to matching the sash design but with double glazed panels. External signage has been improved to give greater visual awareness of the Institute's presence. Inside the building, the previous multiple types of stair balustrade have been replaced with a new balustrade throughout, and the reception area has been completely remodelled to create a more welcoming and spacious area for visitors.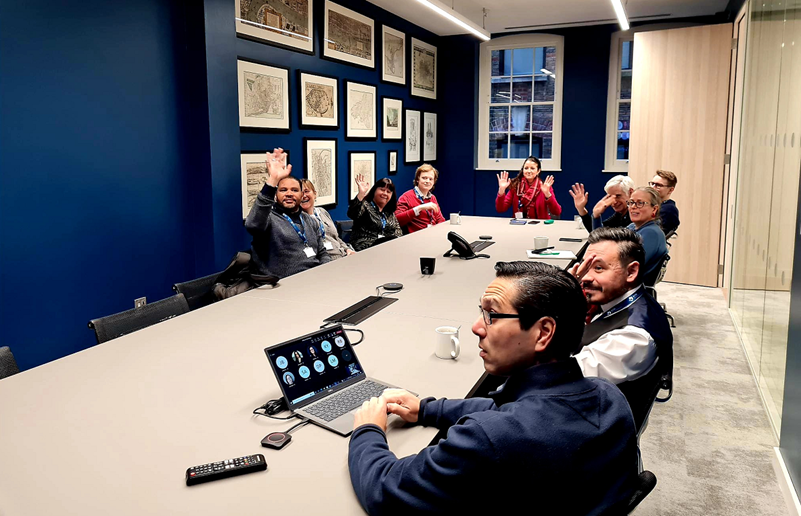 Colleagues enjoying using the new Board room at a hybrid all staff meeting
Take a look at our before and after video to see the transformation