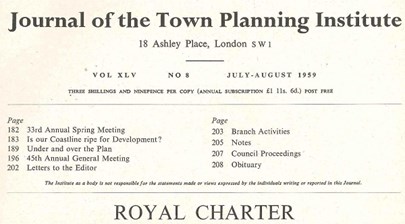 The Royal Town Planning Institute is governed, under the provisions of its Royal Charter and Byelaws, through a Board of Trustees with a General Assembly, supported by various regional and specialism-based committees.
The Byelaws ensure that at all times at least two-thirds of the members of the General Assembly will be corporate members.
The role of the General Assembly is (in the words of the Byelaws) to act as a forum for debate about the development of planning policy and practice, the corporate policy of the Chartered Institute and other issues relevant to the objects of the Chartered Institute.
The Regulations explain: The General Assembly shall have power to determine the Institute's stance on matters of public policy and planning practice. In the exercise of this power the General Assembly shall have regard to views expressed by Nations, Regions, Branches, Sector Groups, Networks and Associations as well as by relevant committees, panels or other groups within the Institute. The Board of Trustees shall seek to ensure, subject to budgetary constraints and the claims of competing priorities, that adequate resources are made available to the work of the General Assembly for the exercise of this power.
The General Assembly has a number of other specific powers and functions. Chief among these is the right to elect and dismiss Trustees.