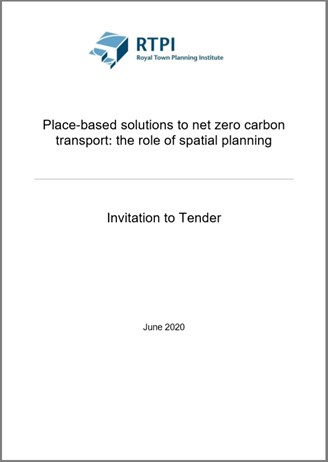 The Department for Transport's document Decarbonising Transport: Setting the Challenge (March 2020) recognises that measures to reduce overall travel demand and increase the use of sustainable transport modes must accompany technological change, such as vehicle electrification, in order to meet the UK's carbon emissions reduction commitments. The DfT has defined 'place-based solutions' as one of six strategic priorities for its Transport Decarbonisation Plan, which focuses on England.
Spatial planning can help to reduce travel demand and enable modal shift by integrating place-based approaches to transport decarbonisation into long-term visions for the physical, social and economic development of different parts of the country. Strategies, plans, policies and guidance can help to ensure that planning, development and investment decisions support the delivery of this vision.
The RTPI is commissioning research to stimulate bold and innovative thinking on the contribution of spatial planning to transport decarbonisation in different types of place, and address barriers to implementation. Our objective is to develop compelling visual and written outputs that provide clarity on the role of place-based solutions within the DfT Transport Decarbonisation Plan, on a scale commensurate with the climate and ecological crisis.
Download the Invitation to Tender here
The deadline for applications was Friday 3 July. We are currently assessing applications and will provide further updates on this page over the coming weeks. 
For enquiries, please contact:
James Harris, Policy and Networks Manager. Tel: 020 7929 9483 / Email: research@rtpi.org.uk
Other content you might be interested in