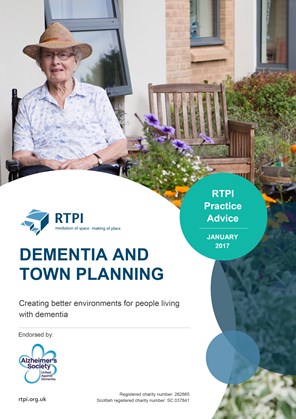 There are currently 850,000 people living with dementia in the UK. This is set to increase to 1 million by 2021 and to 2 million by 2051 (Source: Alzheimer's Society). Evidence has shown that good quality housing and well-planned, enabling local environments can have a substantial impact on the quality of life of someone living with dementia, helping them to live well for longer and of course, town planning has a key role to play if health and social care policies are to succeed. If you get an area right for people with dementia, you get it right for older people, for young disabled people, for families with small children, and ultimately for everyone.

This practice note gives advice on how good planning can create better environments for people living with dementia. It summarises expert advice, outlines key planning and health policy and highlights good practice case studies. The policy context applies to England, Scotland, Wales and Northern Ireland, the principles of good practice are applicable wherever you work.
Download the full report here. Download the summary here.


Complete our online training module on dementia here. Learn more about inclusive planning and health at the RTPI here.
"I encourage all concerned to take the RTPI's useful advice on board and support those with dementia to live the lives they want to." - Jeremy Hughes, Chief Executive of Alzheimer's Society
For more information contact practice@rtpi.org.uk