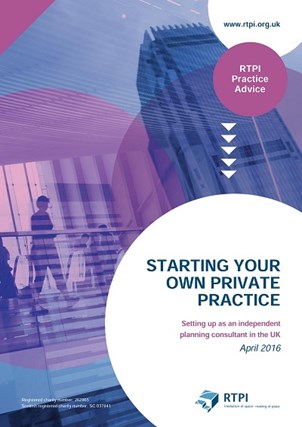 This RTPI Practice Advice is designed to support our members who are considering, or who have recently set up as a planning consultant. It introduces the main issues that you need to consider. From the nitty gritty of - preparing a business plan, what fees to charge and the role of your accountant - to how you assess your strengths, effective networking and how to maintain a work-life balance. It focuses on the needs of the independent consultant, small consultancies or those going into partnership. We have also highlighted the support the RTPI provides for our private sector members.

Starting in Private Practice has been updated following a survey of our Independent Consultants Network, and it includes candid quotes about their first hand experiences, the lessons they have learned and the challenges facing new consultants. The RTPI is grateful to them for sharing their experiences.
For more information contact [email protected].
Other content you might be interested in