The RTPI's Corporate Strategy comprises four "Pillars" – these include supporting local planning services and raising the profile of planning. Our PAE Support workstream - one of the key parts of our work programme - aims to help achieve these objectives. It enables volunteers to act as "neutral facilitators" on planning activities taking place in some of the most deprived parts of the country.
Operating online over the last three years, under this workstream PAE has supported consultation activities for a number of local planning authorities (e.g. Blackburn with Darwen, Leeds and Stockport) by delivering virtual engagement workshops for local groups and residents based in their more economically disadvantaged areas. 
DLUHC Pilot - Simpler Approach to Neighbourhood Planning - Middlesbrough Council
Middlesbrough Borough Council (MBC) is one of several local planning authorities (LPAs) to have successfully bid to DLUHC for a pilot neighbourhood planning project set up this year and funded to run between April 2022-March 2023. The project's intention is to provide communities - Neighbourhood Forums (NFs) in particular - with an additional tool to have their future vision and development planning objectives clarified, especially where they do not have the skills to go on and produce a full Neighbourhood Plan (NP).
They are instead being invited to prepare "Neighbourhood Priorities Statements" (NPSs), i.e. not technical development plan documents but rather, broadly agreed statements of key priorities and preferences for future development. These would be prepared by a NF and consulted upon (as with NPs), probably for a minimum of six weeks.
After that the NPS would be finalised, but an independent examination would not follow. Instead, a NPS would be submitted to the LPA. If considered satisfactory, the LPA would take a formal committee decision to have the NPS made/adopted. The NPS would then potentially serve as a "hook" on which policies for the area could be "hung" in a future Neighbourhood or Local Plan.
MBC invited PAE to support their inner-city Gresham NF with preparing a first NPS for its area under this pilot scheme. A highly experienced, senior volunteer – a former RTPI President based in the North East – has been appointed and is assisting the Gresham NF with its initial work.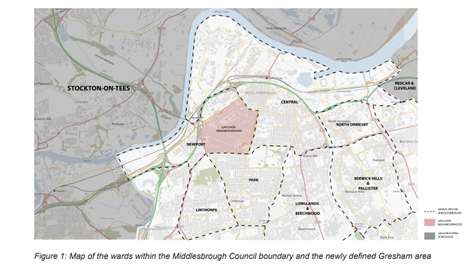 The Gresham area is located in the north of MBC's area, immediately west of the CBD and lying to the south of the A66, it stretches across to one of the inner city's major green spaces, Albert Park. Broadly, it comprises two parts:
a northern renewal area where, inter alia, there are proposals for a Teesside University students' "village" development, situated within a short distance of the University's main campus – just across Linthorpe Road, the Gresham NF area's eastern boundary; and
a southern section of largely nineteenth-century housing, focussed around Parliament Road which is lined with a variety of small retail and service uses (Kim May has noted that it seems to have few vacancies at present).
The housing in the southern section has been one focus for MBC funding for an "Alley Gates" project, primarily aimed at reducing opportunities for crimes (e.g. illegal waste dumping or drug misuse) but also offering opportunities for new, small-scale greening projects.
Across the area a high proportion of homes are rented, with a resultant high residential population "churn" – especially as many Teesside University students choose to live there.
To gather local opinions and views on what priorities should be for the area's physical and community development over the next few years, Gresham NF have prepared a set of events for residents in the pre-Christmas period. These include a Bingo evening, drop-in events at the NF shopfront in the area's main shopping street and three special Christmas events being held during November and December. They are relying heavily on using graphics (primarily local maps) to focus people's ideas for the area. These maps will also be circulated in outreach to local schools, community facilities such as GPs' surgeries and to other local commercial and public venues. A questionnaire for local residents will also go out to over 3,500 homes in the NF area with an e-newsletter which the NF regularly circulates.
Gresham NF hope to have the results from this consultation work gathered during January, ready for analysis together with other information already assembled in support of a possible Neighbourhood Plan for the area. Drafting of the NPS will then take place before its submission to MBC. Whilst too early to anticipate the likely recommendations it will contain, these might include suggestions for potential temporary uses for a set of vacant sites, better design quality for new buildings proposed, as well as recommendations regarding the future of the area's main shopping street.