In 2013 and 2014 Planning Aid England (PAE) assisted Lawrence Weston, a post-war housing estate, on the outskirts of Bristol, in its neighbourhood planning and community engagement activities.
Lawrence Weston used to act as a dormitory village for dock workers in Avonmouth but changes in employment patterns over time led to high levels of unemployment on the estate. There had been no new housing built in the locality since its original development, and, although deprived, the area never secured substantial regeneration funding, as a result, residents had very little involvement in the planning system. In 2012, however, a key site in the heart of the community was put up for sale for redevelopment. At the same time the local clinic and youth centre buildings were closing, and some housing was being demolished, leaving sites available for future development.
A series of community engagement workshops and local events were held with support from Planning Aid England. These helped residents build knowledge of the planning system through interactive sessions including quizzes and themed activities covering topics, such as green space and housing. The workshops helped residents engage with forming the aspirations of the policies that would go in their neighbourhood plan, but in a way that did not exclude people without formal education.
In addition, work on t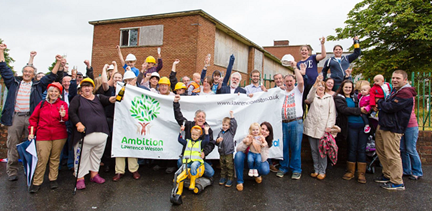 he community plan provided a strong base for local participation. Residents were trained in community research, helping some of those involved to find work, and successfully designed a questionnaire used for door-to-door research which had over 1,000 responses. The priorities identified through this engagement were then used for the community plan.
Almost a decade on from PAE's work the local community, we spoke with Mark Pepper, Development Manager for Ambition Lawrence Weston:
"For a community like ours, the thought of delivering a Neighbourhood Delivery Plan (NDP) with all its complexities was frightening. We were fortunate enough to receive an abundance of Planning Aid England support and help from arranging guest speakers to visit us to give us a better understanding of NDP's; to explaining the process in plain English; to supporting us in collecting the evidence needed to prove justification of policy.
We now have a 'made plan' that has directly affected and improved housing developments in our local area. This experience has also improved our confidence as a community and given us a real voice for the first time, a voice that is being listened to at long last."
For more information on Ambition Lawrence Weston, please click here.