Winner: Milton Keynes City Council
In 2022 Milton Keynes was awarded City status by Queen Elizabeth II, marking another milestone in its illustrious, centur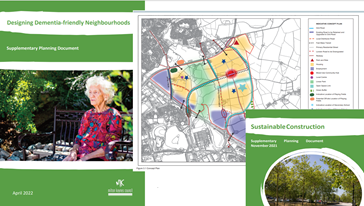 ies old development history. Milton Keynes City Council is proud of its New Town accomplishments and custodian of much older heritage assets not normally associated with the city (such as its 27 Conservation Areas). The Council has big ambitions for future growth in its Strategy for 2050 and is gearing up to deliver that growth through its New City Plan.
The judges were pleased with the planning teams proactive approach to their recruitment challenges brilliantly demonstrated by the establishment of their Planning Academy . MKCC has a creative and collaborative attitude to ensure high standards of service are provided to the communities they serve. The judges were also impressed with the strong focus on demystifying planning, making it more accessible, indicating that this planning team is proactive about delivering a high-quality planning service to Milton Keynes.
Commended: Winchester City Council Planning Enforcement Team
Winchester City Council Planning Enforcement Team reformed during 2021 to redesign and deliver the enforcement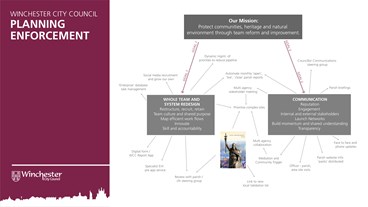 service better protecting the environment and the reputation of planning. The team has grown from the building blocks of their own strengths, thriving on the challenges faced and developing efficiency, skill and resilience through adversity. The team have overseen excellent outcomes protecting the environment from the worst planning breaches, promoting a service at the heart of community planning and a key component in upholding what matters to local people and in the delivery of the climate change agenda.
The judges noted WCC planning Enforcement team as a pro-active and positive out-put focussed team, an inspiring team for others to learn from. The increase in successfully resolved cases, addressing the backlog and their record of appeals upheld is to be applauded. The team have clearly worked hard to change and improve the service and well evidenced within their submission. Although this is a new team, it is clearly already showing significant benefits for the council and communities and is a good model for other authorities to follow.  The real stand out is the short timescale for the complete overhaul and remarkable improvement in services.