Winner: Bayside, Worthing entered by ECE Planning Limited and Worthing Borough Council
The Splashpoint and Bayside developments have been delivered as a phased masterplan which began in 2010, following a complex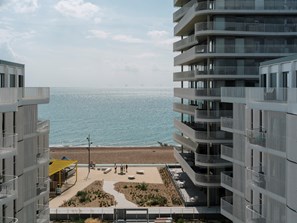 planning process with high levels of community engagement.  The development acts as the catalyst for change and regeneration of Worthing seafront and the wider town through the provision of new public facilities and creates a wayfinding point on the seafront that provides a destination for residents and visitors through the draw of its high-quality architecture and facilities.
The judges noted that design across the scheme was of a high standard, with the seafront residential tower being of a particularly high-quality design including its use of asymmetrical wrap-around balconies to break up straight lines. This results in a distinctive piece of architecture that makes the most of its prominence in the seafront skyline.
Commended: Dinton Activity Centre entered by DHA Planning
Undertaken on behalf of Wokingham Borough Council, the Dinton Activity Centre project was tasked with replacing the existin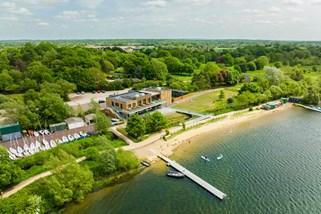 g facility, considered to be no longer fit for purpose and unable to offer an all-year-round community service. DHA led the delivery of a purpose-built, environmentally high-performing centre offering high-quality accommodation that meets the required education and community leisure requirements.
The judges noted that the submission contained good evidence of steps taken to achieve accessibility for all, and that delivery as achieved was excellent given the Covid challenge during the project. The leading practice submission was an example of a high-quality, comprehensive planning process, including effective stakeholder engagement, and demonstrated developing an effective response to a difficult site. It was clear that the project delivered community benefit and community interest with its education and leisure elements.
Commended: The Woolbeding Glasshouse and Silk Route Garden entered by South Downs National Park Authority
The new Woolbeding Glasshouse and Silk Route Garden introduce a contemporary signature design that complements the existing public offering at the National Trust operated Woolbeding House and Gardens. Sited within a parkland setting the design of the glasshouse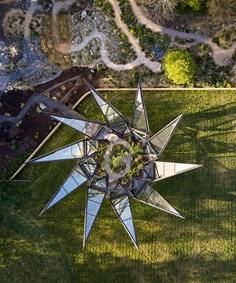 reflects the setting of a stand-alone parkland structure representing a feature characteristic of historic Country Houses which often continue the personalisation of their house and gardens through interventions within their landscape. The Woolbeding Glasshouse and Silk Route Garden balances conservation and the creation of a new landmark destination through high quality design in a sensitive historic landscape.
The Heatherwick Studio-designed Glasshouse is, arguably, an exceptional piece of architecture in a very sensitive setting with both landscape and heritage impacts to consider. It is clear that this has required a very high level of negotiation between the South Downs National Park Authority, as custodians of a nationally important landscape, the National Trust, Heatherwick Studio and Savills.
The judges were very impressed by the collaboration and negotiation required, underpinned by effective use of tools such as planning conditions, to successfully integrate a contemporary, highly distinctive piece of architecture into a very sensitive setting.