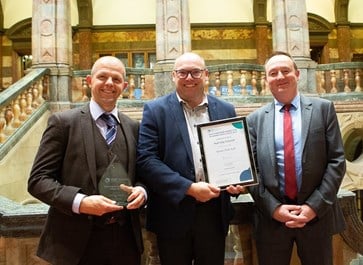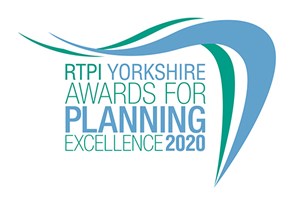 The RTPI Yorkshire Regional Awards for Planning Excellence celebrate outstanding projects that demonstrate the power of planning in our region. Entries reflect the diversity of planning achievement, whether in urban or rural areas, large or small in scale, involving new development, regeneration or conservation.
Winning these prestigious awards is a clear demonstration of quality, and an excellent way to raise the profile of a project, team or individual.
This year, 20 organisations entered the RTPI Yorkshire Awards  - the highest amongst all the English regions.
Entries into the 2020 Regional Awards are now closed and will re open in Spring 2021. 
The winners were revealed in a YouTube premiere on the 17 November. 
Subscribe to the RTPI's YouTube channel now to ensure that you are among the first to learn when new videos are published youtube.com/theRTPI
Read all about last year's winners here.                 
Entered by: East Riding of Yorkshire Council

Other key organisations involved with the project: Hull City Council, Environment Agency, Yorkshire Water and local flood action groups.

A unique engineering scheme that will help prevent flooding to more than 3,000 residents living in settlements in the East Riding of Yorkshire and the City of Hull.

This multi-million pound flood alleviation scheme, the result of collaborative working, has created a sophisticated engineering solution after devastating floods in June 2007 which affected hundreds of homes and businesses. The new measures are designed to control surface water, intercept flood water and divert the flow away from residential areas.

The scheme is one part of a wider programme of flood elevation to improve the drainage infrastructure in this area and enhance the flood protection offered to residents in the Major Haltemprice settlements and Hull. 

Joint project entered by: DLP Planning Ltd, Race Cottam Associates, Sheffield City Council Capital Delivery Service, Kier Construction Regional Building North and Scotland

Other key organisations involved with the project:

Sheffield City Council Development Management Services (Local Planning Authority and Building  Control), Turner and Townsend, Ares Landscape Architects, Roscoe, NG Bailey, Omega Fire, Stroma (formerly HRS Services), SLR Consulting, Mott MacDonald and HLM. 

Astrea Academy is a new, purpose built through-school in Burngreave, an inner city district of Sheffield, and includes a refurbished Grade II Listed landmark building to accommodate 1,400 pupils between ages 2 – 18. The school is divided into two elements The Grade II Listed former Pye Bank School and a new-state-of-the-art building for older year groups.

The school opened in 2018 and 2019, is already oversubscribed and is a key local employer in the Sheffield area.  

 

Entered by: AHR Architects 

Other key organisations involved with the project: University of Huddersfield, Iain Bath Planning, Morgan Sindall, Carnaby Steel, Genlec, GLeeds, OOBE, SRL 

The Barbara Hepworth building, a new £30 million development at the University of Huddersfield was opened in 2019 and houses the School of Art, Design and Architecture, uniting these disciplines under one roof for the first time. Most strikingly, the 7,500 sq m building features a daring cantilevered floor projecting out towards the canal. 

The Barbara Hepworth Building includes an entrance atrium which provides a central navigation point. Other facilities include the Materials Library, textile design studios, print and dye areas, workshop areas, postgraduate research space, lecture space, and studios for photography, graphic design, product design and fashion, with CAD computer laboratories. 

Entered by: Sheffield City Council 

Other key organisations involved with the project: David Leonard Architects (Master Plan) Sheffield City Region (Funder) Turner Townsend (Project Managers) Arup (Civil Engineering)

Charter Square in the heart of Sheffield is the latest phase of the Heart of the City programme, a series of public realm and development projects, which aim to transform the centre of Sheffield. 

The revamped space, which used to be a traffic dominated roundabout and dual carriageway now includes public spaces, seating areas and kiosks that can be used as restaurants and cafes.

The multi-functional place promotes pedestrian and cycling routes, employing innovative planting techniques and has created an attractive setting for new investments such as a cinema, restaurant and office space. 

 

Entered by: Citu

 

Other key organisations involved with the project; White Arkitekter, Leeds City Council, LAYER.Studio, Nick Brown Architects ,Ollier Smurthwaite Architects

The Climate Innovation District is is a neighbourhood in Leeds City Centre which consists of more than 800 low-carbon homes alongside leisure facilities, offices and green spaces. 

The £250 million car-free development is the first of its kind in the UK and contains some of the most airtight and energy efficient homes in the world, with the first few residents moving in early 2019.  It  will also include a Primary School and Care Home once complete. 

 

 

Entered by: NPS Barnsley 

Other key organisations involved with the project; Barnsley MBC, Barnsley Museums, Ares (Landscape Architects) 

The Cooper Art Gallery (part of Barnsley Museums) cottage refurbishment aimed to transform an empty cottage at the back of the art gallery into an inspiring innovative space for artists. 

The new development now includes an artists studio space which provides a home to Barnsley's growing and vibrant creative sector and allows local college students to secure an exhibition at the gallery as a vital stepping stone in their career.

The newly renovated cottage, which also includes  a new cafe/tea rooms and an exhibition space opened in 2019. 

 

Entered by: DLP Planning 

Other key organisations involved with the project; Leeds City Council (Local Planning Authority), Willmott Dixon Construction (contractor), Faulkner   Brown Architects, One Associates (architects), Department for Education

Dixons Trinity is a pioneering new all through primary and secondary school in Chapeltown, Leeds.  The innovative, structured school is part of the expansion of the top performing Dixons Academy Trust. 

The school is split across two sites, which are connected by a bespoke 26m-long steel footbridge, which runs across a busy road enabling students to be dropped off and cross the road safely while minimising traffic impact. 

The £21.6 project will now provide 1,000 school places for the local Chapeltown and Harehills communities and has been completed, ready for pupils and staff to return once COVID-19 restrictions are lifted.

Entered by: Barratt and David Wilson Homes 

Garnett Wharfe, located in the historic market town of Otley, is a 194 homes development which has been transformed from a derelict paper mill site. The project, which was completed in 2019, includes a mixture of housing, a retirement complex, office space and a visitor centre.

The picturesque riverside location also features the installation of two Archimedes screws to form part of its impressive hydroelectric facility, generating electricity from the river weir, making the development carbon neutral on an offset basis.

The facility has a number of environmental initiatives a which also includes an otter holt, bat chamber and a fish pass to help protect local wildlife.

 

Entered by: Leeds City Council, Strata Homes and Keepmoat Homes

The East Leeds Brownfield Regeneration Programme was established to unlock cleared land to drive a major neighbourhood renewal programme in the Leeds City Council's housing estates of East Leeds. The project involves 13 significant development sites across East Leeds. 

The overall regeneration will deliver close to 1,000 new homes in the neighbourhoods of Seacroft, Halton Moor and Osmondthorpe, with a further 700 homes on land behind Seacroft hospital. The investment is expected to create 900 new jobs.

 

Entered by: Page\Park Architects

The Leeds Playhouse has been transformed by a radical £15.8m refurbishment and extension which includes a new entrance facing the city's bus station and includes the installation of four striking ceramic panels, forming a vibrant façade.  

Indoors the re-configuration of the two main theatres spaces has increased seating capacity and enhanced access, and a new flexible performance space has been created in an existing basement. 

The design of the entrance façade has been influenced by the local tradition of using ceramic and faience in building facades and interiors. This rich tradition is visible throughout the city, notably in the tiled hall of the Central Library, Art Gallery and County Arcade, and continues in more recent developments such as Victoria Gate.

Entered by: Associated Architects and WSP (formerly Indigo Planning)

Other organisations involved with the project: Leeds City Council

Nexus is a leading innovation hub at the University of Leeds. In the year since the development opened (2019) it has created 125 skilled jobs and hub members have developed 37 products and services. 

The £40m building on university campus includes office and lab space, along with meeting facilities, a cafe and exhibition space.  

It is located on the edge of a conservation area with protected views.  

Entered by: NPS Barnsley 

Royston Park Pavilion has been given a new lease of life through a refurbishment scheme. 

The pavilion in the centre of the village of Royston, 4 miles from Barnsley town centre, had become become neglected, underused and the subject of repeated vandalism.

Now, the modernised pavilion has undergone a full makeover which involved redesigning the internal layout, including meeting rooms, storage and toilet facilities for the local community. 

Thanks to the refurbishment, Royston Pavilion is now a modern, spacious facility which is easy to keep clean and maintain and is regularly used by local community groups as well as sports teams. The community are using it, maintaining it, and ensuring it stays fit for their purpose.   

Entered by: CODA Planning Ltd / SkyHouse Ltd

Other organisations involved with the project: CODA Studios, Sheffield City Council, Barratts David Wilson

SKYHouse Oughtibridge is a new-build housing scheme which delivers a high-density solution to housing in Sheffield as part of the wider redevelopment of the former Oughtibridge Mill, a brownfield site. 

Building on the traditional "back-to-back" housing model, the three-storey layout of the homes delivers large internal and external space within a high-quality building. The site provides 35 homes and 13 apartments. Outside there is courtyard parking, communal play areas and private terraces for each home owner.   

This design approach includes re-greening of former derelict land through introducing new planting, landscaping and opportunities for reintroduction of new ecosystems. 

Entered by: CODA Planning Ltd / SkyHouse Ltd

Other organisations involved with the project: CODA Studios, Rotherham MBC

SKYHouse Waverley is a new-build housing scheme which delivers a high-density solution to housing need in Rotherham as part of the new Waverley community.

The scheme includes 44 homes on the former Orgreave Coking works site. The design of the homes features the traditional 'back-to-back' terraced housing model while using thoughtful design, quality construction and interesting architecture.

The homes, many of which contain roof gardens, aim to create close knit communities with their own facilities and avoiding the need to make car journeys as a matter of routine.

Entered by: Rushbond plc

Other organisations involved with the project: Craven District Council

The Cotton Mill development housing scheme is part of the wider Skipton Belle Vue Mills regeneration project involving the conversion of mills to homes, offices and a Gym. 

Belle Vue Mills, established originally in 1828, played a pivotal role in the industrial development of the market town of Skipton.

The Cotton Mill site, completed in 2018, contains 39 apartments delivered as the final element to an extensive restoration and re-purposing programme. 

Entered by: Barnsley Metropolitan Borough Council

Other organisations involved with the project: Queensberry, IBI Group

The Glass Works Phase 1 is Barnsley's new retail and leisure destination located in the heart of the Metropolitan centre. 

The development is named after Barnsley's heritage, which was previously a centre for the UK's glass producing industry.

The area is filled with shops, restaurants and leisure activities, providing the heart and soul of the town.

It houses Barnsley's famous award-winning market, chartered in 1249, and includes 'Library @ the Lightbox', providing a hub for community activity and learning.   

Above the market sits 'Market Kitchen' providing a diverse eating and meeting experience using locally sourced ingredients and seating 500 people, both in the building and on a terrace.

Entered by: Hull City Council

Other organisations involved with the project:

NHS Hull Clinical Commissioning Group, Community Health Partnerships, City Care Ltd.  Humberside Fire Service. Medical Architecture. Sewell Construction. Pickering and Ferens Homes.

Opened in 2018, The Jean Bishop Integrated Care Centre has delivered a ground-breaking, multi-disciplinary, fully integrated model of healthcare to frail older people.

The site in East Hull is improving how frail people are looked after, reducing unnecessary hospital appointments and making the remainder of their lives better.

Through collaboration between the local authority, clinical commissioning group, emergency services, and a local charitable RSL, the scheme has contributed to the redevelopment of a former school site, with a fire service presence set alongside healthcare workers, and a separate but highly compatible development of affordable bungalows for older people across the remainder of the site. 

Entered by: Deloitte LLP and Fielden Clegg Bradley Studios

Other organisations involved with the project: Leeds City Council

Vita Student St Albans development in Leeds City Centre is a student housing development targeted primarily at international and post-graduate students. 

The luxury serviced accommodation broadens the range of student accommodation in the city. The communal facilities include a mini-cinema room, fully equipped gym, breakaway rooms for study; private dining room to be booked out by residents; large communal lounge with bar, pool table, table tennis table, and video gaming areas.

The building's site, in the north-east of Leeds City Centre, is part of the 'New Briggate Vision' regeneration area, at the fringe of the city's Grand Quarter conservation area. 

The building has a distinctive bronze ceramic façade, intended as a subtle nod to Leeds traditional industries as well as reflective of the terracotta and faience finishes on many older buildings in the city

Entered by: Tibbalds Planning and Urban Design with Urban Design Skills and City of Bradford Metropolitan District Council, Department of Place.

Homes and Neighbourhoods: A Guide to Designing in Bradford is a framework document which will enable the Council, developers and house builders to collaborate in raising standards.

The design guide aims to create successful places that enrich the quality of local people's lives in the youngest district in England and one of its most diverse. It has been tailored to the needs of Bradfordians by including representatives of the local community into the process.

The final guide was enthusiastically received by Councillors and quickly supported for adoption as a Supplementary Planning Document. The people – both in the Council and more widely among stakeholders – who have been involved in shaping the guide will now be in a strong position to ensure that it has an impact.

Entered by: Hull City Council and Harper Perry Architects

Other organisations involved with the project: Harper Perry Architects; Living With Water; Yorkshire Water; Environment Agency; East Riding of Yorkshire Council; RIBA; Society of Humber Architects (regional RIBA branch); Design For Homes; Spencer Group; DLA Design; Freedom Festival (Hull); Integreat Plus; Civic Engineers; University of Hull

Hull Residential Design Guide is a housing guide and blue-print document which aims to set expectations for future housing in the city, and is designed to improve living standards, future proof high-quality homes and meet housing requirements.

By making the Council's expectations for the design of new homes clear, the guide gives greater certainty to the planning process, which will enable Hull to meet the city's housing needs, and also reduces risk for housing investors and developers. 

 

 

 

 

 
The RTPI has also published its latest research on High Street planning below and describes how cities and towns ca… https://t.co/eDTzFMe67x
Happy New Year from RTPI Yorkshire! Our first CPD online event on 22 January focuses on Thriving town centres post… https://t.co/f0a377bHid
Do you want to make a difference at a regional level to the Planning Profession? Develop your skills and knowledge… https://t.co/ag5SDtlTsl