The RTPI South East Awards for Planning Excellence celebrate projects and peop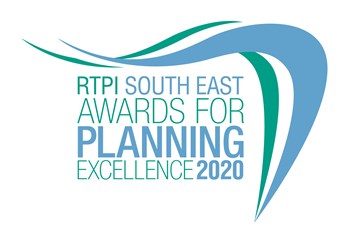 le who have helped create exceptional places and improved the lives of those who live and work there; highlighting how planning and planners work to create a safe, healthy and sustainable future.
Winning these prestigious awards is a clear demonstration of quality, and an excellent way to raise the profile of a project, team or individual.
The winners of this year's RTPI South East Awards for Planning Excellence 2020 were announced in a virtual ceremony on 16 November.
Regional winner: Campbell Wharf, Milton Keynes 
Campbell Wharf has transformed an underwhelming canalside location into a vibrant and unique development. The scheme includes 383 new homes, a nursery, a pub, retail and commercial units, public open spaces and a short-stay marina. Extensive pre-application engagement and partnership working was involved with this scheme, with all development partners supporting the final proposal and 86% public support for the overall scheme at a public exhibition event. This site has created an impetus for growth, and improved the viability, of surrounding undeveloped land and the scheme has also unlocked the start of the new Bedford to Milton Keynes Waterway.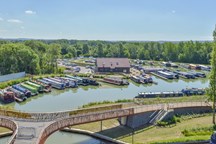 Sue Percy CBE, Chair of RTPI South East judging panel, said: "The project represents a real planning success story. The project demonstrates excellence in land use planning, regeneration, sustainable transport and a wonderfully designed piece of civil engineering as a centrepiece.  The planning team managed to overcome viability issues and have delivered a project that not only regenerated the site, but will hopefully trigger improvements to the wider area to the benefit of current and future residents and visitors."
Planning Partner at Bidwells Mike Jones MRTPI said:"It is fantastic that this scheme has the recognition it deserves as a truly mixed-use development of the highest quality. This is a testament to the success of local engagement and partnership working between the project team and Milton Keynes Development Partnership. It was particularly pleasing to hear that the judges acknowledged the enhancement of the wider setting, establishing a benchmark for future development along the canalside."
Commendation: Romsey Town Centre draft Masterplan
The master plan process has allowed the Romsey Future Partnership to lead the redevelopment of the area south of Romsey Town Centre; through the appointment of Masterplanners Nexus Planning and Perkins +Will.
Young Planner of the Year 2020 : Daniel Young, Senior Planning (Policy) Officer, Portsmouth City Council

Judges' comments: "Daniel's enthusiastic commitment to helping to address climate change and delivering improvements through policy based on his national and international research impressed the judges. They wish him every success in taking these forward and feel he has a bright future ahead of him in Town Planning".
Daniel said: "It's a great honour to receive this award. I truly believe that planners have a vital role to play in creating healthy, sustainable places for all and I will continue to champion the benefits that our profession can bring to addressing the challenges we face today and in the future".
Highly Commended: Beth Watts, AssocRTPI, Bloomfields
Beth's nomination highlights an impressive track record within the rural sector. She appears keen to learn from those around her to continue to develop her knowledge and skills, including mentoring planning graduates. You can also watch our virtual awards ceremony on
Take a look at our YouTube video from 16 November:
The RTPI SE Awards for Planning Excellence 2020 were sponsored by Francis Taylor Building

As a specialist planning set of chambers', Francis Taylor Building is delighted to sponsor the RTPI SE Awards which recognises excellence in planning and celebrates the professionals who help to deliver exceptional projects which help to improve the quality of lives of citizens and to create a more sustainable future.