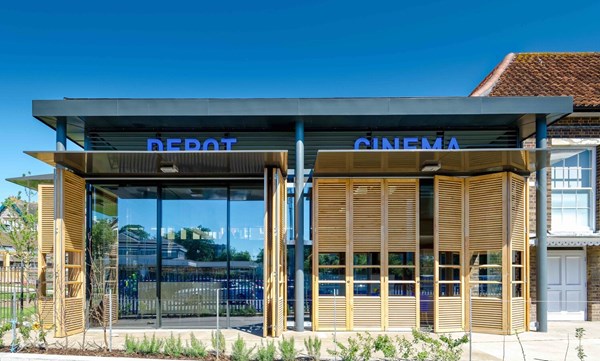 An example of how early engagement with the local planning authority and a community-minded approach can deliver well-designed sustainable places.

The Depot, a community cinema, cafe, restaurant and multifunctional space in Lewes, turns a dilapidated functional building in a strategic location into a valuable and sustainable asset for the community.
Lessons learnt
Pre-application engagement should be meaningful and involve specialists from the onset, so that positive changes can be applied to the proposal at an early stage, improving the outcome and supporting a quicker permission process.
A focus should be placed on creating benefits for the community, with a sustained engagement effort throughout the application process to develop support, create a sense of ownership, and achieve good place-making.
"Think green": local authorities should not be afraid to put forward creative and clean mobility solutions when responding to highway objections.
Find more details here.​
"A desire to reuse existing buildings to create The Depot rather than simply redevelop the site demonstrates proactive planning at its best. The planners undertook useful, ongoing engagement with the local community, including very strong pre-application consultation - a key to this project's success. The project team worked closely with key stakeholders to deliver a community arts centre that is universally supported and of genuine community value" 
The 2018 RTPI Awards for Planning Excellence Judges Panel

"Through good planning practice and early community engagement the development was not only shaped by, but helped build, public support for the project resulting in an amazing community facility that locals and visitors will use, experience and be proud of for many years to come."
Sue Percy CBE MRTPI, chair of the judging panel and Chief Executive of the Chartered Institution of Highways & Transportation
"Creating a cinema/arts venue fulfils a valuable community need and [represents] also a place of congregation for the people of Lewes and a provision for tourists."
Robert Senior, Director of Lewes Community Screen