Small Planning Consultancy of the Year Winner
Hybrid Planning & Development
Female-owned and managed, Hybrid Planning & Development was established to offer a fresh perspective and voice for the profession. It delivers high-quality, mixed-use developments in complex and challenging urban environments across the UK, creating sustainable homes, communities and places of work, leisure, education and care.

From its East London base, Hybrid's energetic team is committed to using planning for meaningful socioeconomic change, and is actively involved with the RTPI, RICS, and Women in Planning as well as undertaking extensive volunteer work to make the planning process as inclusive as possible.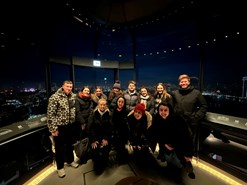 Small Planning Consultancy of the Year Commended 
Newsteer Real Estate Advisers
Newsteer aims to be a new type of real estate advisory business, bringing together all the positive principles of a good neighbourhood to enable individuals to fulfil their goals and potential as part of a collective. Now more than 30 staff, Newsteer is a multidisciplinary team of planners and surveyors, providing specialist advice across all areas of development. The team provides a range of strategic and development management advice to its clients. Newsteer's understanding of the commercial pressures on their clients enables them to provide site-specific advice spanning the development process from inception and feasibility through to implementation and delivery.