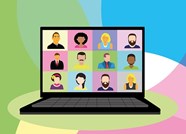 Do you miss speaking to other planning professionals at a similar level in their career to you? Are you starting out in your career or recently relocated to the East of England region and struggling to make connections? This is the place for you.
Come and join our East of England Young Planners Committee for an informal chat about any and everything #PlanPals!  
A chance to catch up with your peers and find out about current projects across the region. Discuss any top tips on home working or share thoughts on an eventual return to the office in the 'new norm'. Struggling with your APC submission or a university project, this could be a great way to get some ideas and help from your fellow young planner colleagues.
Dates for your diary
11:30am-12:30pm Friday 26th March
11:30am - 12:30pm Friday 30th April
11:30am-12:30pm Friday 28th May
11:30am-12:30pm Friday 25th June
The platform we use is GoTo meeting, so please check you can download this before booking.
Joining instructions to our socials will be sent out a day before the event.
We are also keen to hear any ideas you have for events or activities you would like to see hosted by the region.