Best Project of the Year Winner
Lucy Cavendish College, Cambridge, entered by Bidwells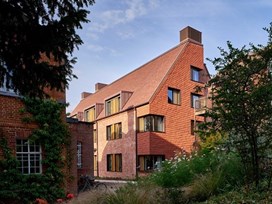 A sustainable new heart for Lucy Cavendish College in Cambridge, providing student rooms, social spaces, and a café. The college's new building has been designed to facilitate integration across their increasingly diverse student body and foster an engaged, inclusive, and welcoming community to reach out to those groups underrepresented in higher education. It was important to the college to create a future-proofed building that is low energy and low carbon and can also be easily expanded in response to their growth.
Judges' comment: "This project overcame notable challenges, such as to do with planning in a conservation area and the demolition of two notable heritage assets. It is a testament to the strength of the partnership between the College and the local planning authority, fostered by Bidwells, that the upgraded student rooms, café, dining, and social teaching space have been completed. It is impressive that the new accommodation is accessible for wheelchair users, achieves Passivhaus certification, and honours the tradition of Lucy Cavendish College to promote university participation from students of non-traditional and underrepresented backgrounds.
This project is an example of best practice in how the accommodation is accessible and linked to other college facilities, and it is commendable how a new state-of-the-art building has been constructed whilst being respectful of its surroundings and location in the West Cambridge Conservation Area, benefiting from surface water management and biodiversity. It is an example of best practice where planners are able to bring a client, stakeholders, interested parties, and expert specialists together to deliver a successful project".
Best Project of the Year Commended
3 and 4 Station Square, entered by Bidwells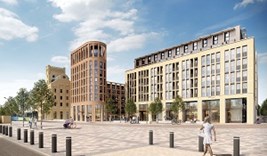 3 and 4 Station Square is the final element of Cambridge's CB1 development. The buildings at Station Square have provided the city with nearly 900 sqm of much-needed BREEAM Excellent offices, over 600 sqm of prime retail spaces, several community areas, green space and 89 high-quality new homes - all based in the heart of Cambridge.
Judges' comment: "The scheme's strength is in combining the interests of local communities whilst reinforcing the Cambridge brand as a place for high-tech global companies.
Having a Community Engagement Officer to involve people who live and work at Station Square is commendable, and the project did not miss the opportunity to make the most of sustainable modes of travel. I like too the ambition of the design to create strikingly distinctive buildings whilst fitting them cohesively into the existing CB1 masterplan and simultaneously give the buildings a sense of presence whilst being subservient in design to 50/60 Station Road".