Best Plan of the Year Winner
Watford Local Plan 2021-2038: A Sustainable Town, entered by Watford Borough Council
The Local Plan sets out the framework for growth in Watford to 2038. Set within a challenging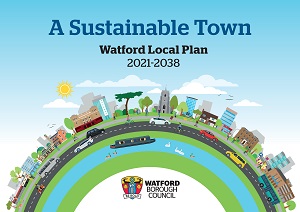 planning landscape environment and significant development challenges, the Local Plan was completed through strong corporate leadership, constructive engagement with stakeholders to achieve shared delivery objectives, and taking a positive design-led approach to sustainability to match the ambition of Watford's local communities.

The Planning Policy team embraced the challenges arising through the lockdown, coming together during times of adversity to apply new ways of working and deliver a Local Plan at a time when local authorities are struggling to overcome challenges facing Local Plan preparation.
Judges' comment:  "The judges have given the award for Excellence in Plan Making Practice in the East of England to the Watford Local Plan 2021-2038: A Sustainable Town. In a context, nationally and regionally, in which local authorities are struggling to get local plans adopted to their required timescales, the existence of the adopted Watford Local Plan represents success in itself! The judges were particularly impressed by the performance of the plan in relation to climate action and sustainable development and that Watford Borough Council had worked collaboratively with a range of stakeholders and the local community and ensured that concerns had been listened to in developing and revising the plan. The best practice the plan production team showed in attempting to reach a wider audience through digital means is also noteworthy".
Best Plan of the Year Commended
East Suffolk Cycling and Walking Strategy, entered by East Suffolk Council
The purpose of the East Suffolk Cycling and Walking Strategy is to create safe, coherent, direct,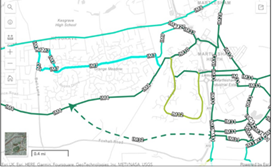 comfortable, and attractive cycling, walking and wheeling environments that lead to improvements in health and wellbeing, facilitate greater social interaction and play, encourage more environmentally sustainable lifestyles, reduce road congestion, and support economic growth, across our large and diverse district, supporting the implementation of our two Local Plans.

The Strategy has been designed to be innovative, interactive and digital representing a more engaging approach infrastructure planning. It is anticipated that the Strategy will be used as an example for future projects.
Judges' comment: " Through a collaborative effort with a wide range of stakeholders, the plan sets out proposed cycling and walking networks and measures within specific areas of the County, with an emphasis on improving infrastructure for those who do not currently cycle or walk. This plan is key to achieving the national aim of making walking and cycling the natural choice for short journeys. We are impressed with the collaboration between East Suffolk Council and Suffolk County Council, which has directly enhanced the deliverability of infrastructure projects and aligned planning processes. The robust plan-making process and early positive impact make this a great example of plan-making with future positive outcomes to follow."