Date
28 February 2024 at 02:00 PM - 04:30 PM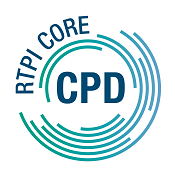 Core CPD Framework:
- Planning Law & Process
- Diversity, Inclusion & Professional Ethics
- Championing Planning
- 7 CPD Hours
Masterclass aim:
Planning inquiries address the most complex development schemes and represent only a small fraction of the planning decisions made annually. Taking part in a planning inquiry is a great professional opportunity, an experience which should not be missed.
However, public inquiries can be a daunting and unfamiliar prospect due to the complexity of their subject matter, their rarity, and the overtly legal nature of the procedure. This Masterclass will provide you with the tools and techniques to prepare properly for participation in a public inquiry.
This Masterclass is suitable for anyone who is working in town planning, or a related discipline, who is preparing for an inquiry or working towards gaining inquiry experience.
Learning objectives:
After completing this Masterclass, you will understand the role and duties of expert witnesses
Gain valuable knowledge to feel confident to prepare for and appear at a public inquiry
Learn how to present your evidence to the best of your ability at the inquiry
How to deal confidently with cross-examination
Trainer: Kim Langford Tejrar, click the link to find out more about the trainer and the Masterclass.
CPD Masterclass structure:
You will start with the Self-guided Learning that consists of Trainer's video presentations and exercises on the RTPI Learn platform. This flexible learning prepares you for the Live Interactive Webinar with your Expert Trainer to address your questions and for the discussions with your peers. The Self-guided Learning section will take at least 4 hours to complete. The Joining Instructions are sent on the day that the Self-guided Learning opens, or after your booking has been processed, if booked after the Self-guided Learning start date. 
Self-guided Learning opens for you from 18 January 2024
Live Interactive Webinar: 28 February 2024 (14:00 to 16:30)
Masterclass booking guidance
RTPI Members have to log into their RTPI account to make the booking
Booking for non-members can be done as a group booking by their administrators
If your organisation is not registered on the RTPI system, it will need to be done by contacting the finance team: [email protected]
Invoice bookings are available, if the organisation is the fee payer 
Please check our Booking FAQs for more information
All our online Masterclasses are recorded by default
If you need further assistance with your booking, email [email protected] or contact us on 020 7929 8400