Date
23 November 2022 at 01:30 PM - 04:30 PM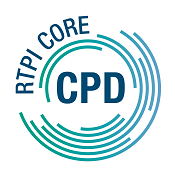 Core CPD Framework:
- Planning Law & Process
- Diversity, Inclusion & Professional Ethics
- Championing Planning
CPD Masterclass structure
This Masterclass will be delivered over an eight-week period, with two interactive webinars and learning resources hosted on our RTPI Learn platform:
Part One webinar: Wednesday, 23 November 2022 from 13:30 to 16:30
Part Two webinar: Thursday, 12 January 2023 from 14:00 to 16:00
We will send you an invitation to the Masterclass a week before Part One, inviting you to take part in some pre-work activity. 
All our Masterclasses include principles of climate action, and equity, diversity, and inclusion. 
Masterclass aim
To provide you with the tools and techniques to prepare properly for participation in a public inquiry


Learning objectives
Understand the role and duties of expert witnesses
Gain valuable knowledge to feel confident to prepare for and appear at a public inquiry
Learn how to present your evidence to the best of your ability at the inquiry
How to deal confidently with cross-examination
Masterclass booking guidance
RTPI Members have to login to make their booking.
Please check our Booking FAQs for more information.
If you need further assistance with your booking, email [email protected] or contact us on 020 7929 8400.