Date
18 November 2020 at 01:30 PM - 04:30 PM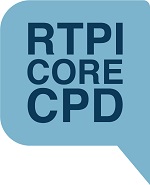 Core CPD Framework:
- Health and Inclusive planning
Course Aim
As a planning professional, you have a key role in trying to include many different types of people and treating them fairly and equally. The physical and mental health of the population is affected by the way that places are made. In this topical and new online masterclass you will learn about the principles and practices of inclusive planning.
Through a combination of expert trainer input, discussion and group work, you will:
Discover new ways to enable healthy place-making through practical case studies; 
Consider the latest updates on accessibility policy and development;
Learn about the role town planning plays in promoting good mental health in communities;
Embed the principles of inclusivity into the planning process
This masterclass will be delivered through an interactive three hour webinar. There will also be a dedicated learning area for this masterclass inside RTPI Learn. It will be open for three months for structured, reflective activities with your trainer and other delegates before, during and after the live webinar.
For the concessions rate, you need to be a student, unemployed or retired.
All bookings are self-service and if you are a member you will need your membership number and password to login.
If you are having difficulties booking,  please check our Booking FAQs first, then email training@rtpi.org.uk or contact us on 020 7929 8400 if you are still having difficulties.
If your particular booking category is shown as sold out, we may be able to reallocate other booking categories on demand.
As we move to an improved digital offer and as part of our digital transformation of the RTPI to streamline our administration costs to provide better value for you, we will no longer offer invoiced payments for event bookings of £500 or under,  inclusive of VAT.  All event bookings of £500 or less inclusive of VAT are now via debit or credit card payment only.