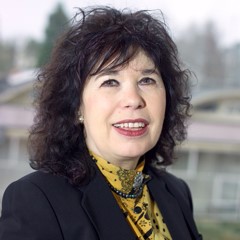 This annual lecture is held in memory of Professor Nathaniel Lichfield. The lecture topic varies year on year, with an aim to reflect and celebrate different areas of planning.
This year's lecture was held on 25 November 2020 on the topic of Health and Placemaking. It was presented by Professor Georgia Butina Watson from the School of Built Environment at Oxford Brookes University and chaired by Sue Manns FRTPI, President of the RTPI.
You can view the recording of the lecture here. 
Georgia Butina Watson, Professor of Urban Design in the School of the Built Environment at Oxford Brookes University. She is also an Academician and Regional Co-ordinator of the Academy of Urbanism, and is a Fellow of the Royal Society of Arts (FRSA). She was Head of Department of Planning at Oxford Brookes University (2001-2015) and Chaired the University Research Degree Committee (2000-2016). Her professional background and academic training come from History of Art,  Planning and Urban Design.
Professor Watson has extensive teaching, research and consultancy experience in urban planning and urban design. Her key research and consultancy projects include the work on sustainable, resilient and healthy cities;  placemaking; urban regeneration; community development; planning and design of new towns; place-identity; and perceptual and cognitive experience of places with different age groups, including elderly residents and young people. She has also been research advisor and consultant to various bodies at National and Local Government levels providing expertise on planning and urban design matters. She served as a member of various jury panels for planning and urban design competitions and awards. In a similar role she has advised the Council of Europe and many international governments and research councils and has delivered high profile lectures and training programmes for planning and urban design professionals.
She has published a number of journal articles and co-authored books including Architecture and the City; Designing Sustainable Cities in the Developing World;  Identity by Design;  Sustaining Cities; Retrofitting Cities and Designing Resilient Cities and Neighbourhoods.
A generous endowment for the lecture was received from Nathaniel Lichfield's widow Dalia Lichfield in 2011 ensuring we are able to continue to deliver this event. Many thanks to the Lichfield family.