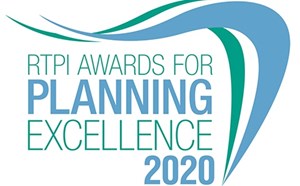 The countdown is on! On 30 April we will be announcing the winners of this year's RTPI Awards for Planning Excellence. Due to the coronavirus (COVID-19), we will be hosting the 2020 Awards as a virtual ceremony instead of a live production. We would be delighted if you and your colleagues would join us on 30 April at 1pm on our YouTube channel where we will be announcing the category winners and our prestigious Silver Jubilee Cup winner, awarded annually to the entry judged to be the most outstanding from amongst the category winners. In anticipation of the announcement why not subscribe to our YouTube channel?
With not long to wait have a look at what happened at the ceremony last year.
The RTPI Awards for Planning Excellence are the longest-running and most high-profile awards in the industry. For 40 years they have rewarded the brightest talent in the profession; the teams, projects and individuals that transform economies, environments and their communities all over the UK and internationally.
If you have any queries please email us at awards@rtpi.org.uk.