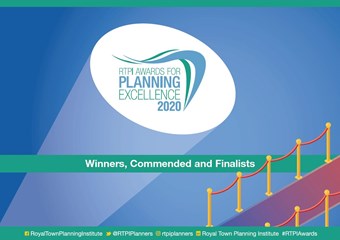 This year we rolled out the virtual red carpet as we came together online to celebrate the RTPI Awards for Planning Excellence 2020.
Many congratulations to all of our winners and commended entries; especially to Marmalade Lane (submitted by TOWN & Greater Cambridge Shared Planning Service) who won not only two project categories, but also the much coveted Silver Jubilee Cup.
For more details on our finalists, commended and winners have a look at our winners' brochure.
To relive the excitement, view the ceremony here and share the link with your friends and family!
Thanks to everyone who has joined us to celebrate the best in planning online this year. Continue the conversation on Twitter using #RTPIAwards.
For more details on the 2021 Awards, please contact awards@rtpi.org.uk
About the Awards
The RTPI Awards for Planning Excellence are the longest-running and most high-profile awards in the industry. For more than 40 years they have rewarded the brightest talent in the profession; the teams, projects and individuals that transform economies, environments and their communities all over the UK and internationally.
If you have any queries please email us at awards@rtpi.org.uk.