RTPI Awards for Planning Excellence 2021 finalists announced

Congratulations to all of our finalists for the RTPI Awards for Planning Excellence 2021.
Tickets for the virtual ceremony on 29 April are now available to book.
This year's ceremony will be taking place on our new virtual platform, The Awards Room by Evessio. It's a fantastic virtual experience that not only allows you to watch the ceremony but also still network with other professionals within the room; all are welcome to attend, even if you're not nominated. The Awards Room allows you to 'sit' at a table and chat with your colleagues, private messaging with other guests attending the ceremony, as well as video chats.
The Awards Room will open at 4pm and the ceremony will begin at 4.30pm so be sure to get dressed up and grab a drink of choice to celebrate the very best of the best in the planning profession.
We will be recognising the most outstanding projects, teams and people across 15 categories and the Silver Jubilee Cup will be awarded to the entry judged to be the most outstanding from the nine project category winners.
To see more about how it all works, watch a show around of the virtual platform here.

Host announced!!
We're excited to announce Sasha White QC as the host for our 2021 awards ceremony! A number of you might have seen Sasha each week, since lockdown began, on the panel of Have We Got Planning News for You. We're looking forward to having him guide you all through the virtual ceremony. Click here to read more about Sasha.
Our 2021 Finalists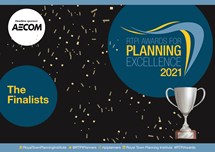 Find out more about the projects, teams and individuals including 'Planning Heroes in a Pandemic' who made the esteemed list in our finalists' brochure here.
Thank you once again to everyone who entered and big thanks to headline sponsor AECOM.
For the latest news, check #RTPIAwards on social media and follow us @RTPIPlanners.
To relive the excitement of the 2020 ceremony, click here.