Look out for our 2020 competitions
Last year's World Town Planning Day Competition asked students to take a closer look at both their local and wider environment and the many decisions that impact it.
The competition was open to all secondary schools, with winning schools receiving prizes for the individual student and lead teacher.
What is World Planning Day?
Town World Town Planning Day was founded in 1949 by the late Professor Carlos Mario dells Paolero of the University of Buenos Aires. The main goal was to advance public and professional interest in planning, both locally and abroad.
World Town Planning Day, also known as World Urbanism Day, is a day to give special recognition to the ideals of community planning which bring professional planners and the general public together
World Town Planning Day presents on opportunity to look at planning from a global perspective, an event which appeals to the conscience of citizens and public authorities in order to draw attention to the environmental impact resulting from the development of cities and territories.
It is a day when planners from over 30 countries celebrate their achievements in helping to create more sustainable communities and places with lectures, children's competitions, fundraising and charity events, planning awards and street festivals.
Curriculum Themes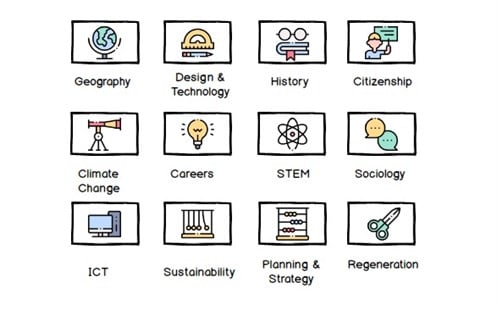 Previous Winners
Our 2018 winner re-imagined the city of Birmingham. They re-purposed existing infrastructure, created a space which brought people of different cultures together and seeked to do this with on environmentally friendly approach. You can watch the video below: