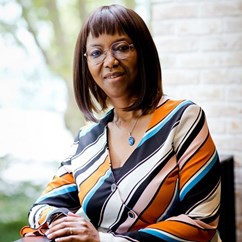 Results of elections for the RTPI Vice-President, the Board of Trustees and the General Assembly are now in, showing that Helen Fadipe will be the Institute's next Vice President.
Helen is a Strategic Planner with over 30 years' experience working across public and private sectors, both in the UK and internationally. She is also the Founder and Chair of BAME Planners Network, promoting  diversity and inclusion in the planning profession. 
Meeta Kaur remains Chair of the Board of Trustees as she enters the second term of her first term. Meeta is a founding partner of Town Legal, the specialist planning law firm, and is both a UK-qualified lawyer and Chartered town planner, as well as three years as Vice Chair of the Board of Trustees.
View the results in full below:
RTPI Board of Trustees
Tony Crook FRTPI - Chartered Trustee
Robbie Calvert MRTPI - Chartered Trustee
Nicky Linihan MRTPI - Chartered Trustee
Richard Max MRTPI – Honorary Secretary and Solicitor
Andrew Taylor FRTPI – English Regions Trustee
Simeon Shtebunaev – Young Planner Trustee
The RTPI General Assembly
Chartered Members:
Kirsty Macari MRTPI
Peter Geraghty FRTPI
Jennifer Winyard MRTPI
Alison Blom-Cooper MRTPI
Ashley Baldwin MRTPI
Laura Mitchell MRTPI
Adele Maher MRTPI
David Coleman MRTPI
Sandra Ford MRTPI
John Coleman MRTPI
Harry Burchill MRTPI
Llinos Quelch MRTPI
John Scott MRTPI
Uche Echeozo MRTPI
Bernadette Hillman LARTPI – Legal Member/Legal Associate
Dylan Lewis-Creser – Student/Licentiate Member
Khawar Wahaab-Asif – Student/Licentiate Member